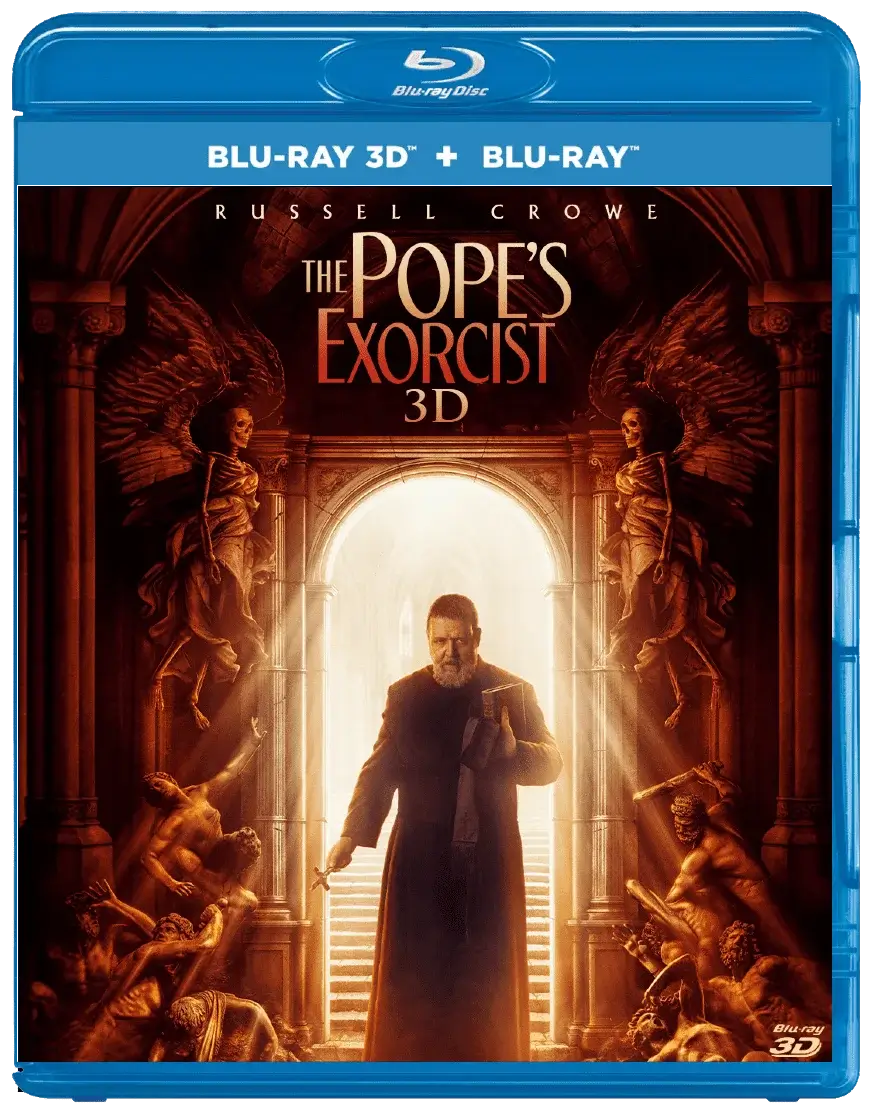 The Pope's Exorcist 3D Blu Ray 2023
Producer: Julius Avery
Duration: 1h 43 min.
Cast: Russell Crowe, Daniel Zovatto, Alex Essoe
Conversion 2D to 3D by:
JFC
IMDB: 6.1
DOWNLOAD
1 690
6
Story 3D Movie
The Pope's Exorcist 3D follows the gripping story of Father Gabriel, a seasoned and devout exorcist within the Vatican. Tasked with confronting malevolent forces and demonic possessions, Father Gabriel is known for his unwavering faith and exceptional skills in driving out evil spirits. As the movie begins, a series of perplexing and violent possessions are reported across different parts of the world, raising concern among the Vatican hierarchy. The cases become increasingly disturbing, with the victims displaying extraordinary strength and knowledge, and the possessed individuals seemingly connected by an unknown malevolent entity.
Throughout their investigation, Father Gabriel's faith is repeatedly challenged as he witnesses the immense suffering of the possessed and faces the consequences of his past exorcisms. He begins to question whether he possesses the strength to overcome the malevolent force that seeks to consume innocent souls and ultimately wonders if his own soul is at risk.
The Pope's Exorcist 3D is a gripping and thought-provoking film that explores the timeless battle between good and evil, faith and doubt, and the strength of the human spirit against malevolent forces. It leaves the audience questioning the nature of evil and the transformative power of unwavering faith in the face of unimaginable darkness.
The Pope's Exorcist 3D Blu Ray 2023 originally was not released in 3D but has been converted to 3D specifically for the 3D-HD.CLUB, offering viewers an enhanced visual experience of the thrilling action sequences and special effects in the movie.
3D conversion by JFC

Review 3D Movie
Comment from JFC
"This film was requested when it was first released and after the great response to Evil Dead Rise and The Exorcist, I figured it would be fun to work on a film that feels a bit like a combination of those two movies. Just like with Evil Dead Rise, I have tried some new things in this conversion that I find risky, but if it goes well these things will be used in future conversions. I'm always pushing to make the most immersive experience and this is only the beginning."
Experience the awe-inspiring clash of good and evil in The Pope's Exorcist 3D by JFC. Feel the supernatural forces come to life around you as Father Michael confronts unimaginable evil with cutting-edge visuals that blur the line between reality and fiction.
Screenshots 3D Movie
Dear site users, to download a 3D movie you can use one of the file storage sites TakeFile or MoonDL. It's up to you which method to choose. Learn more about Premium. Learn more about how to download from TakeFile. Learn more about how to download from MoonDL.
Also, if you have problems with payment on one site, you can try another


ATTENTION! If your account is only showing a small amount of traffic allocation, write a message to the support team of either TakeFile or MoonDL, informing them of your 3D-HD.CLUB user Premium status and they will increase your traffic allocation up to 512 GB every 48 hours.

Link Dead or Problem File? Please let us know and we will fix it!
Subscribe to our
Telegram channel
and don't miss the release of your favorite 3d movie!
Trailer The Pope's Exorcist 3D Blu Ray 2023
Add comment