What 3D JFC Conversions is and why you should see it!
8 666
5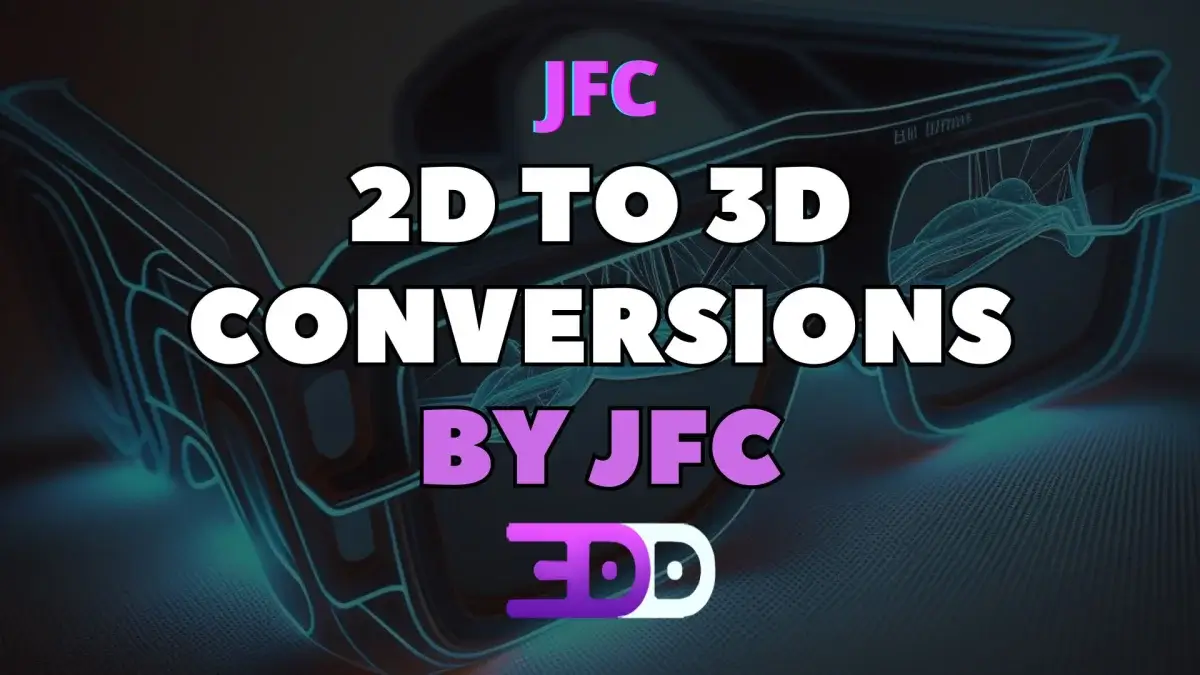 Especially for users of our site we have prepared this article together with the JFC (3D conversion specialist). We hope that our work will help you understand what 3D conversion is and why you should try it now! 
Hello everyone, JFC here. I understand there is a lot of stigma around conversions and hopefully I can put some of those concerns to rest. 
2D to 3D conversion is the process of transforming 2D ("flat") film to 3D form, which in almost all cases is stereo, so it is the process of creating imagery for each eye from one 2D image. When 3D became successful in 2009, some studios decided to begin converting films to 3D, this was controversial because often the results would either be laughably bad or extremely mediocre. Examples of this include "The Last Airbender", "Clash of the Titans" and "Harry Potter" however there are many more examples of bad 3D conversions that I could use. What followed this was many poorly created "3D software converters", which would automatically convert any film to 3D. Sounds great, right?  Well, it would be, if any of them worked. This fake technology was included in TV's, sold by companies that knew it didn't work and they knew it, but they needed to sell 3DTV's and the idea that you can watch anything in 3D. The fake technology was also sold by companies online, applying a terrible and unconvincing 3D layer to any 2D video. This is what you think of when you think 3D conversion, this is what people grew to despise and for good reason, they were terrible.
In 2010 I started experimenting in 3D, studying how it worked, doing short conversions using studio rotoscope methods in Mocha. In 2011, I converted my first whole scene using the tiresome and exhausting frame-by-frame methods that major studios used and was consistently thinking that there must be a better way and through the next 10 years, I would try many things to achieve this.
Well, it's 2023. I started posting conversions in 2022, feeling that my method could use some more work and I needed to "beta test" it in some way. I began posting to a private community, gathering feedback on quality, adjusting and innovating the technique based on criticisms from other people. This has led to a dramatic improvement in quality over the past 4 months. Major studios use very similar methods and the a lot of the same software that I use, the only difference is that they have at minimum dozens of people to correct any kind of error or inconsistency in the process. Major studio conversions take months, $100,000-$8,000,000 per film and a whole lot of people, sometimes well over 100 people working on one film.

Chances are that you already watch a lot of major studio conversions, for example: Marvel films like Thor, Doctor Strange and Endgame are all studio conversions. Titanic 3D is a studio conversion. The Walk is a studio conversion. All great examples of how technology improves over time. But it's not just about technology, it's about depth experience which is a mix of intuition and time, being proficient in interpreting the interocular distance required to simulate the experience of the human eye, being able to perceive these films from a layered perspective and judge what will cause eye strain and make some hard decisions about whether to increase the 3D in some shots, which will cause eye strain and artifacts/warping, or hold the 3D back a little bit and make it more comfortable for the viewer. Everyone has preferences, I make these conversions to be balanced between having impressive 3D shots, while trying to limit eye strain as much as possible. Sometimes there will be issues, these should be fixed over time, but the technique is still evolving and I'm improving my method every day.
Major studios are making less and less 3D conversions, we are here trying to keep it alive. If you haven't yet tried any of the conversions on this site, I suggest starting with Jurassic Park II, Lilo and Stitch, Lightyear or Black Adam. There are a lot more coming very soon, but for now, these conversions are miles better than early studio conversions from 2010 and are so much different from the automated bad quality 3D conversions of the past. Please, don't let your previous bad experiences with conversions stop you from trying the new and improved methods. With everyone giving helpful and polite feedback, this will only get better with time. The future of 3D is here.

You can watch all converted 3D movies just like other 3D movies with your TV or VR glasses, which are increasingly gaining popularity around the world, as these movies will mostly be in Full SBS and Half SBS format. All the movies that have been converted can be found in our special 2D to 3D category. We look forward to your feedback on these 3D conversions.
You can also see the comments of people who have already seen JFC conversions and were very satisfied. Watch too and share your impressions in the comments or in our Telegram channel
If you still doubt the quality of these 3D movie conversions after reading the article, after other people's reviews, we provide an opportunity to download

FREE 

one of the JFC - 
Evil Dead Rise 3D Blu Ray 2023

We hope that after watching it you will definitely make a decision in favor of watching our 3D movies and stay with us for a long time! 

New 3D converted movies from JFC and others are released every Friday. You can find out what's coming out this week or vote for the next 3D movie on our Telegram channel
Add comment
Information
The ability to comment on this publication has been disabled.