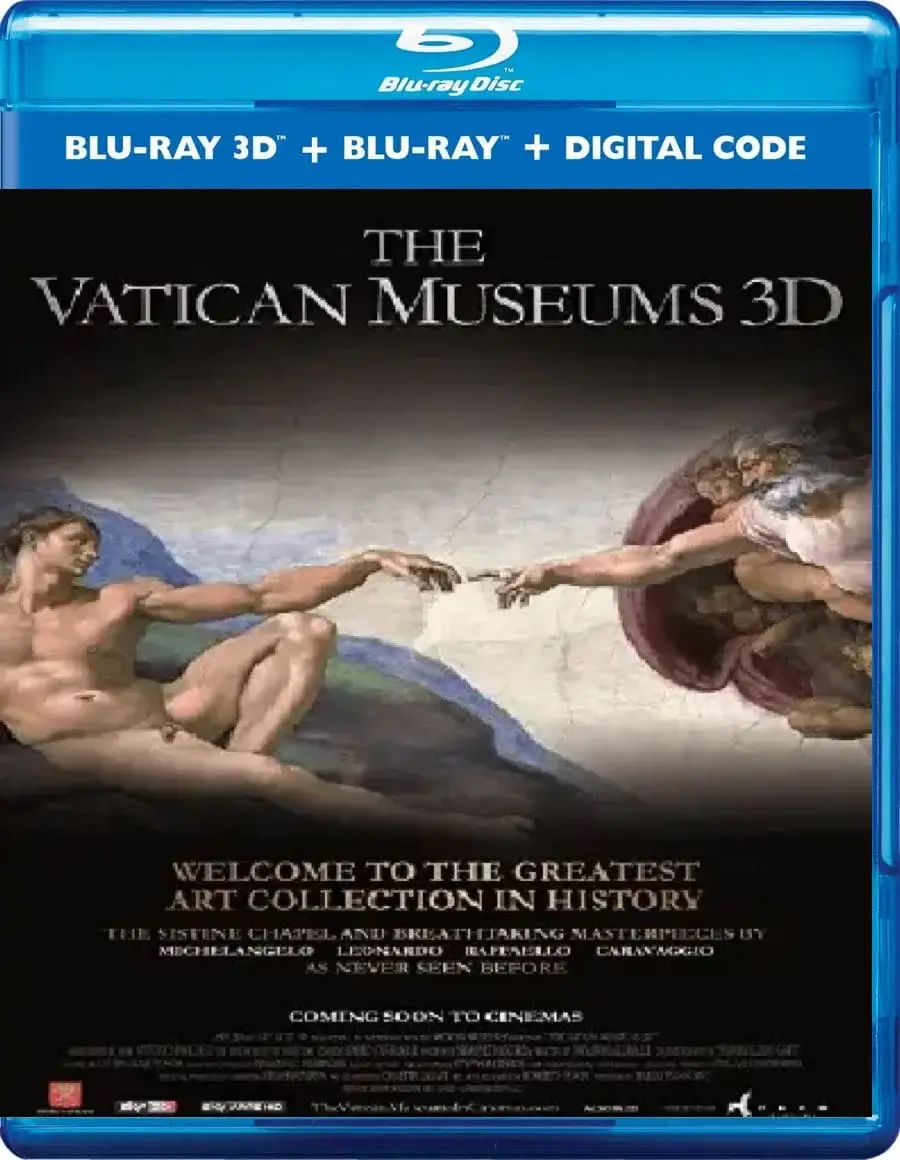 Musei Vaticani 3D Blu Ray 2014
Producer: Marco Pianigiani
Duration: 1h 20 min.
IMDB: 6.8
DOWNLOAD
2 651
2
Story 3D Movie
For the first time in the world, the most advanced 3D technology at the disposal of art, to live an extraordinary thrilling journey inside the Vatican Museums, narrated by Prof. Paolo Paolucci, Director of Vatican Museums. An original production by Sky Italia in the documentary Musei Vaticani  3d blu ray.

Review 3D Movie
This is a fairly interesting demonstration of 3-D filmmaking. There are many scenes of splashing water, flames or swirling dust, interspersed with several shots of a young man's face or hands. Other than a few long shots of two or three galleries, there is not much attention to the three-dimensional art or sculpture in the collection, and most of that involves close-ups of the Pieta, the Laocoön Group and a Roman torso. Murals and oil paintings get somewhat more attention and we have a quick look at Caravaggio's Descent from the Cross. There are brief inspections of some of the details in Rafael's School of Athens, of the Sistine Chapel ceiling and The Last Judgment, but most if not all of the 'flat' art has been subjected to a 'three-dimensionalization' that I found disturbing. An online visit to the Vatican Museum would be a better choice.
Dear site users, to download a 3D movie you can use one of the file storage sites TakeFile or MoonDL. It's up to you which method to choose. Learn more about Premium. Learn more about how to download from TakeFile. Learn more about how to download from MoonDL.
Also, if you have problems with payment on one site, you can try another


ATTENTION! If your account is only showing a small amount of traffic allocation, write a message to the support team of either TakeFile or MoonDL, informing them of your 3D-HD.CLUB user Premium status and they will increase your traffic allocation up to 512 GB every 48 hours.

Link Dead? Please let us know and we will fix it!
Subscribe to our
Telegram channel
and don't miss the release of your favorite 3d movie!
Trailer Musei Vaticani 3D Blu Ray 2014
Add comment