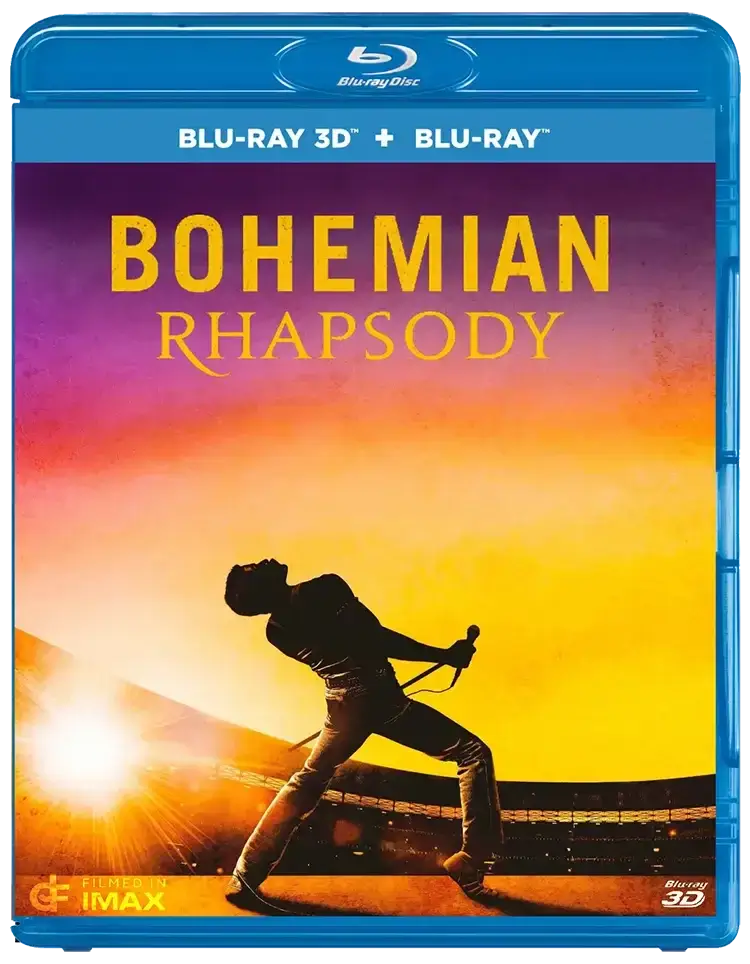 Bohemian Rhapsody 3D Blu Ray 2018
Producer: Bryan Singer
Duration: 1h 34 min.
Cast: Rami Malek, Lucy Boynton, Gwilym Lee
Conversion 2D to 3D by:
JFC
IMDB: 7,9
DOWNLOAD
793
4
Story 3D Movie
Bohemian Rhapsody 3D chronicles the meteoric rise of the legendary rock band Queen and their enigmatic frontman, Freddie Mercury. The film starts in the early 1970s when Freddie, a young baggage handler named Farrokh Bulsara, joins guitarist Brian May, drummer Roger Taylor, and bassist John Deacon to form the band Queen.
As Queen gains popularity with their revolutionary sound and electrifying performances, they redefine the music industry, producing iconic hits like "Bohemian Rhapsody", "We Will Rock You" and "Somebody to Love". The movie captures their creative process, their struggles, and Freddie's personal challenges, including his exploration of his sexuality and his battle with AIDS.
The film climaxes with Queen's unforgettable performance at Live Aid in 1985, considered one of the greatest live shows in rock history. Bohemian Rhapsody 3D portrays Freddie Mercury's journey from an outsider to a musical icon, celebrating the band's enduring legacy and Freddie's indomitable spirit.
Bohemian Rhapsody 3D Blu Ray 2018 originally was not released in 3D but has been converted to 3D specifically for the 3D-HD.CLUB, offering viewers an enhanced visual experience of the thrilling action sequences and special effects in the movie.
3D conversion by JFC

Review 3D Movie
Step into the 3D world of "Bohemian Rhapsody" as the screen transforms into a pulsating gateway to the audacious life of Freddie Mercury and Queen. Witness the epic rise, the raw passion, and the heartrending trials of the band in a way that not only captures their essence but lets you touch the very vibrations of their music.
*NOTE: This film is presented in Open Matte, including IMAX sequences with expanded image compared to the home release, during some on-screen text there is hardcoded russian subtitles, I suggest ignoring them, this is necessary as the standard release is in letterbox and loses a lot of screen space, where the open matte will fill your entire screen. 
Screenshots 3D Movie
Dear site users, to download a 3D movie you can use one of the file storage sites TakeFile or MoonDL. It's up to you which method to choose. Learn more about Premium. Learn more about how to download from TakeFile. Learn more about how to download from MoonDL.
Also, if you have problems with payment on one site, you can try another


ATTENTION! If your account is only showing a small amount of traffic allocation, write a message to the support team of either TakeFile or MoonDL, informing them of your 3D-HD.CLUB user Premium status and they will increase your traffic allocation up to 512 GB every 48 hours.

Link Dead or Problem File? Please let us know and we will fix it!
Subscribe to our
Telegram channel
and don't miss the release of your favorite 3d movie!
Trailer Bohemian Rhapsody 3D Blu Ray 2018
Add comment