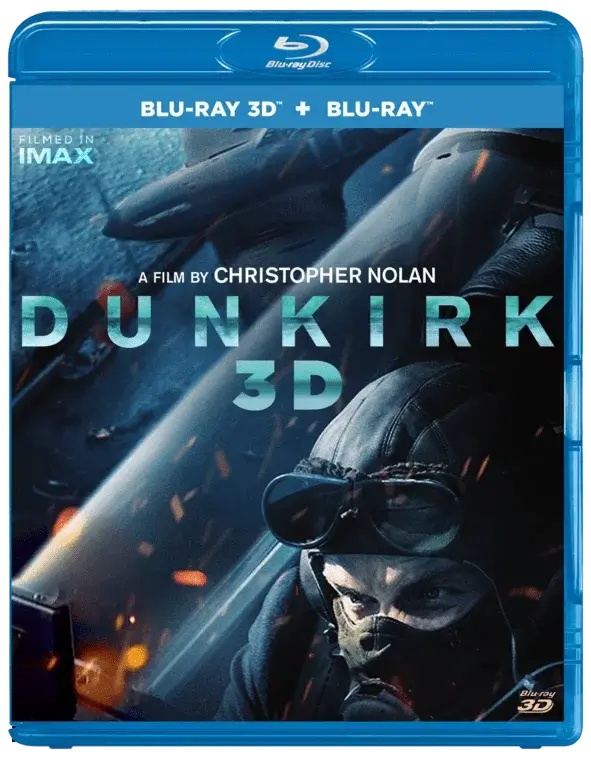 Dunkirk 3D Blu Ray 2017
Producer: Christopher Nolan
Duration: 1h 46 min.
Cast: Fionn Whitehead, Damien Bonnard, Aneurin Barnard, Lee Armstrong, James Bloor, Barry Keoghan, Mark Rylance, Tom Glynn-Carney, Tom Hardy
Conversion 2D to 3D by:
JFC
IMDB: 7.8
DOWNLOAD
2 215
2
Story 3D Movie
Dunkirk 3D is a 2017 war film directed by Christopher Nolan that tells the gripping story of the Dunkirk evacuation during World War II. The plot follows three interconnected storylines that unfold simultaneously. In May 1940, Allied forces comprising British, French, and Belgian troops find themselves trapped on the beaches of Dunkirk, France, with the German army closing in on them. The first storyline follows Tommy, a young British soldier, as he desperately tries to survive and escape the chaotic and dangerous beach, dodging enemy fire and witnessing the devastating consequences of war.
The second storyline focuses on Mr. Dawson, a civilian mariner, who sets off with his son Peter and their teenage friend George in their small boat to rescue as many stranded soldiers as they can. Along their perilous journey across the treacherous waters of the English Channel, they encounter an injured soldier named Shivering Soldier, who is suffering from shell shock. Meanwhile, in the air, the third storyline centers around Farrier, a Royal Air Force Spitfire pilot, who engages in intense dogfights with German aircraft as he provides air cover for the evacuation. With limited fuel and ammunition, he fights bravely to protect the stranded soldiers and his fellow pilots.
As the three storylines progress, they converge at various pivotal moments, highlighting the immense courage and resilience displayed by the soldiers and civilians involved in the evacuation. Despite facing overwhelming odds and constant danger, the spirit of Dunkirk prevails as the British Navy, civilian boats, and RAF aircraft work together to save as many lives as possible. In the end, the successful evacuation sees hundreds of thousands of Allied soldiers rescued from the beaches of Dunkirk, providing a glimmer of hope and resilience in the face of adversity. Dunkirk 3D showcases the extraordinary human will to survive and the collective effort that can be achieved even in the darkest of times.
Dunkirk 3D Blu Ray 2017 originally was not released in 3D but has been converted to 3D specifically for the 3D-HD.CLUB, offering viewers an enhanced visual experience of the thrilling action sequences and special effects in the movie.
3D conversion by JFC

Review 3D Movie
This film, this one has a shot in it that took 12 hours to paint, it might not even be noticed, but if you can spot it, let me know! Definitely one of the hardest films I've worked on, making that clear white sky seem deep was very intense.
Screenshots 3D Movie
Dear site users, to download a 3D movie you can use one of the file storage sites TakeFile or MoonDL. It's up to you which method to choose. Learn more about Premium. Learn more about how to download from TakeFile. Learn more about how to download from MoonDL.
Also, if you have problems with payment on one site, you can try another


ATTENTION! If your account is only showing a small amount of traffic allocation, write a message to the support team of either TakeFile or MoonDL, informing them of your 3D-HD.CLUB user Premium status and they will increase your traffic allocation up to 512 GB every 48 hours.

Link Dead or Problem File? Please let us know and we will fix it!
Subscribe to our
Telegram channel
and don't miss the release of your favorite 3d movie!
Trailer Dunkirk 3D Blu Ray 2017
Add comment