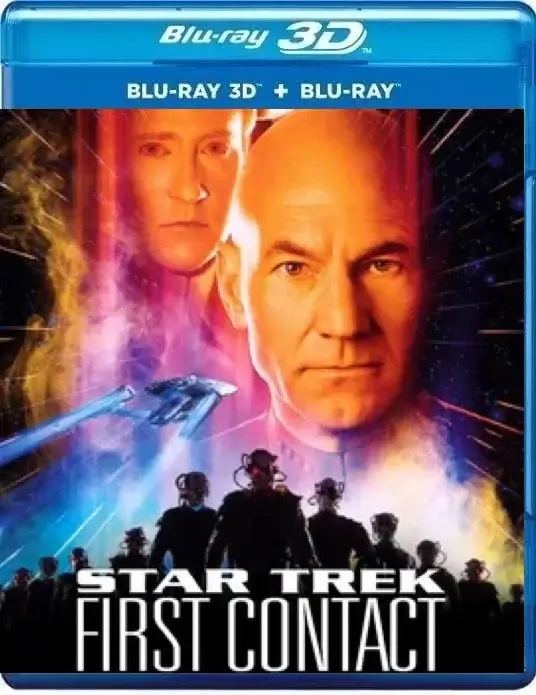 Star Trek First Contact 3D Blu Ray 1996
Producer: Jonathan Frakes
Duration: 1h 51 min.
Cast: Patrick Stewart, Jonathan Frakes, Brent Spiner, LeVar Burton, Michael Dorn, Gates McFadden, Marina Sirtis, Alfre Woodard
IMDB: 7.6
DOWNLOAD
274
1
Story 3D Movie
Based on the works of "Star Trek" by Gene Roddenberry.
In this film, we learn that the first contact of earthlings with alien civilizations in the person of the Enterprise crew took place in the XXI century after the Third World War, when the heroes of Star Trek needed the help of Earthlings, namely Dr. Cochran and his spaceship. The fact is that after a space battle with cybernetic organisms, evil Borg seeking to destroy humanoids, the remnants of the defeated Borg rushed to Earth, diving through the time barrier into the past to change the course of history and destroy Cochran and his spaceship. In this case, the Borg would become the sole rulers of the universe. It was impossible to allow this. Leapfrog with times, joint combat operations with earthlings against nasty Borg, great visual effects, good humor and rich imagination - fans of the genre will be delighted. Download and watch Star Trek First Contact 3D. 
3D conversion by DGC
Screenshots 3D Movie
Dear site users, to download a 3D movie you can use one of the file storage sites TakeFile or MoonDL. It's up to you which method to choose. Learn more about how to download from TakeFile. Learn more about how to download from MoonDL.
Also, if you have problems with payment on one site, you can try another


Have you bought a Premium and there is not enough traffic to download? Contact the TakeFile support team (This is not our support, but the service where you bought it), they will increase your traffic up to 512 gb every 48 hours.

Link Dead? Please let us know and we will fix it!
Subscribe to our
telegram channel
and don't miss the release of your favorite 3d movie!
Trailer Star Trek First Contact 3D Blu Ray 1996
Add comment