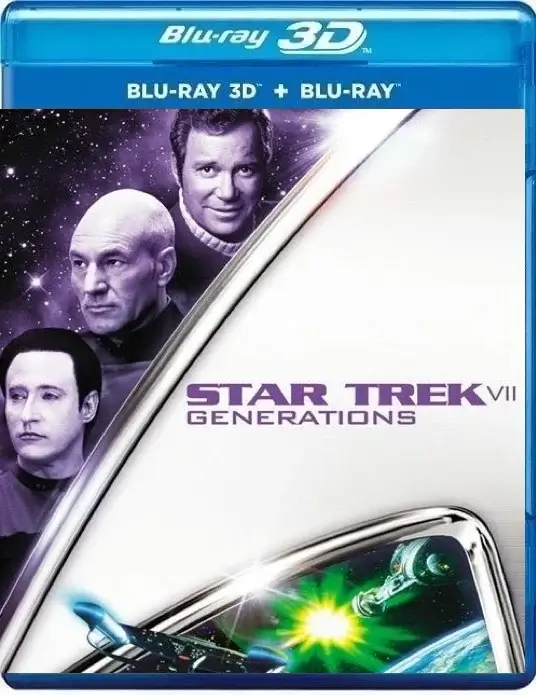 Star Trek: Generations 3D Blu Ray 1994
Producer: David Carson
Duration: 1h 58 min.
Cast: Patrick Stewart, William Shatner, Malcolm McDowell
Conversion 2D to 3D by:
DGS
IMDB: 6,6
DOWNLOAD
873
4
Story 3D Movie
In Star Trek Generations 3D the narrative unfolds as the crew of the Starship Enterprise encounters a mysterious energy ribbon known as the Nexus. This celestial phenomenon has the power to grant those who enter it a perfect and timeless existence. However, a villainous scientist plans to alter the course of the ribbon to bring about his own immortality.
To stop this threat, members of two generations of Starfleet officers must join forces. As they navigate through time and space, they face moral dilemmas and personal sacrifices. The film explores themes of legacy, the passage of time, and the responsibilities that come with command as the characters strive to prevent a catastrophic alteration of reality and preserve the principles of the Federation.
3D Movie from the Franchise - Star Trek
Star Trek: Generations 3D Blu Ray 1994 originally was not released in 3D but has been converted to 3D specifically for the 3D-HD.CLUB, offering viewers an enhanced visual experience of the thrilling action sequences and special effects in the movie.
3D conversion by DGS

Screenshots 3D Movie
Dear site users, to download a 3D movie you can use one of the file storage sites TakeFile or MoonDL. It's up to you which method to choose. Learn more about Premium. Learn more about how to download from TakeFile. Learn more about how to download from MoonDL.
Also, if you have problems with payment on one site, you can try another


ATTENTION! If your account is only showing a small amount of traffic allocation, write a message to the support team of either TakeFile or MoonDL, informing them of your 3D-HD.CLUB user Premium status and they will increase your traffic allocation up to 512 GB every 48 hours.

Link Dead or Problem File? Please let us know and we will fix it!
Subscribe to our
Telegram channel
and don't miss the release of your favorite 3d movie!
Trailer Star Trek: Generations 3D Blu Ray 1994
Add comment