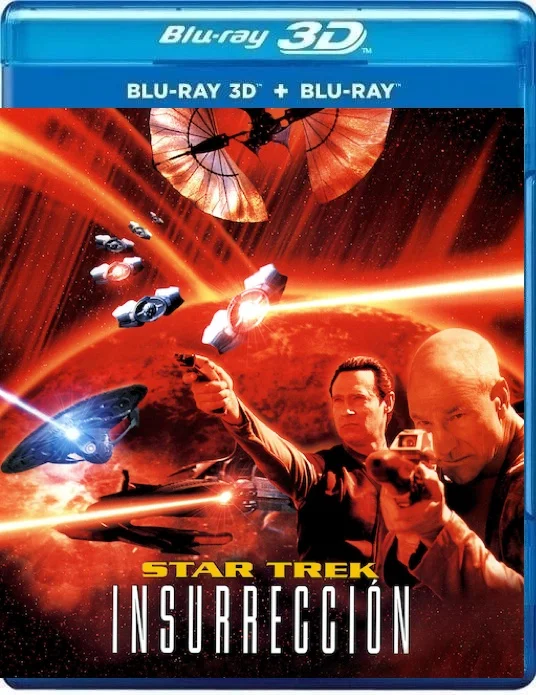 Star Trek: Insurrection 3D Blu Ray 1998
Producer: Jonathan Frakes
Duration: 1h 43 min.
Cast: Patrick Stewart, Jonathan Frakes, Brent Spiner, LeVar Burton, Michael Dorn, Gates McFadden, Marina Sirtis,F. Murray Abraham
IMDB: 6.4
DOWNLOAD
626
0
Story 3D Movie
On a small planet resembling paradise, there lives a small civilization of 600 people who refused technical development. There is a natural source of energy in the bowels of the planet that does not allow a person to age. People aged 300 years look young. Eternal youth - who doesn't dream about it! Naturally, the inhabitants of the planet kept this wonderful phenomenon a secret. After learning about the source, the Song-A and Ba-Ku peoples decided to take over the planet and took the first steps. The commander of the Enterprise learns about the inhumane plans. Download and watch Star Trek: Insurrection 3D.
Star Trek: Insurrection 3D Blu Ray 1998 originally was not released in 3D but has been converted to 3D specifically for the 3D-HD.CLUB, offering viewers an enhanced visual experience of the thrilling action sequences and special effects in the movie.
3D conversion by DGS

Screenshots 3D Movie
Dear site users, to download a 3D movie you can use one of the file storage sites TakeFile or MoonDL. It's up to you which method to choose. Learn more about Premium. Learn more about how to download from TakeFile. Learn more about how to download from MoonDL.
Also, if you have problems with payment on one site, you can try another


ATTENTION! If your account is only showing a small amount of traffic allocation, write a message to the support team of either TakeFile or MoonDL, informing them of your 3D-HD.CLUB user Premium status and they will increase your traffic allocation up to 512 GB every 48 hours.

Link Dead? Please let us know and we will fix it!
Subscribe to our
Telegram channel
and don't miss the release of your favorite 3d movie!
Trailer Star Trek: Insurrection 3D Blu Ray 1998
Add comment