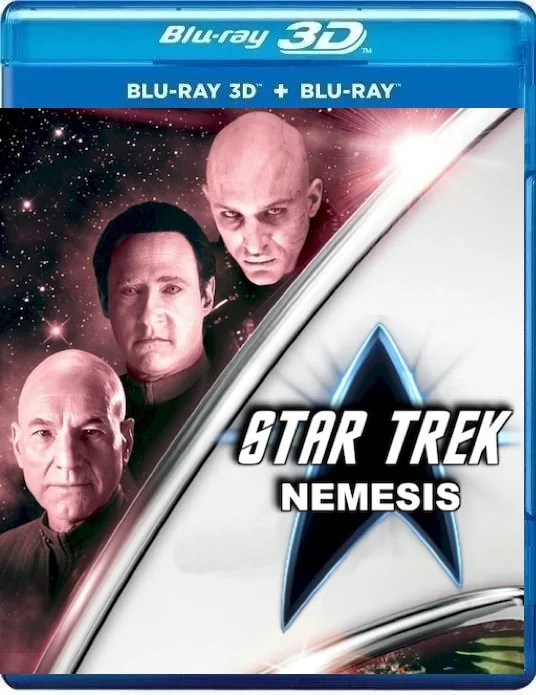 Star Trek: Nemesis 3D Blu Ray 2002
Producer: Stuart Baird
Duration: 1h 56 min.
Cast: Patrick Stewart, Jonathan Frakes, Brent Spiner
Conversion 2D to 3D by:
DGS
IMDB: 6,4
DOWNLOAD
882
4
Story 3D Movie
In Star Trek: Nemesis 3D the plot centers on the crew of the Starship Enterprise as they encounter a new and formidable adversary - a clone of one of their own. This clone, created by an alien race known as the Remans, emerges as a potential threat to the entire galaxy.
As the crew investigates the origins and motives of this clone, they uncover a complex web of political intrigue, personal vendettas, and a plot to instigate war. The film delves into themes of identity, the consequences of one's past actions, and the potential for redemption. The crew faces both physical and moral challenges as they strive to prevent a catastrophic conflict and confront the darker aspects of their own history.
3D Movie from the Franchise - Star Trek
Star Trek: Nemesis 3D Blu Ray 2002 originally was not released in 3D but has been converted to 3D specifically for the 3D-HD.CLUB, offering viewers an enhanced visual experience of the thrilling action sequences and special effects in the movie.
3D conversion by DGS

Screenshots 3D Movie
Dear site users, to download a 3D movie you can use one of the file storage sites TakeFile or MoonDL. It's up to you which method to choose. Learn more about Premium. Learn more about how to download from TakeFile. Learn more about how to download from MoonDL.
Also, if you have problems with payment on one site, you can try another


ATTENTION! If your account is only showing a small amount of traffic allocation, write a message to the support team of either TakeFile or MoonDL, informing them of your 3D-HD.CLUB user Premium status and they will increase your traffic allocation up to 512 GB every 48 hours.

Link Dead or Problem File? Please let us know and we will fix it!
Subscribe to our
Telegram channel
and don't miss the release of your favorite 3d movie!
Trailer Star Trek: Nemesis 3D Blu Ray 2002
Add comment