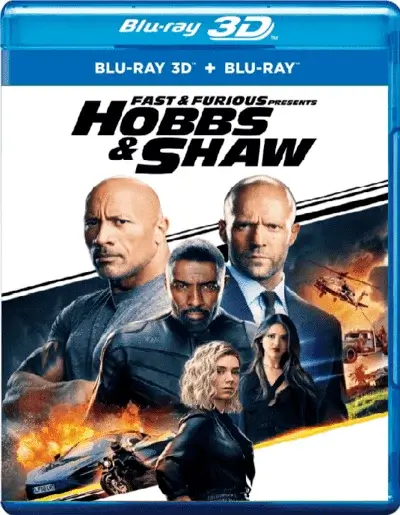 Fast and Furious Presents Hobbs and Shaw 3D Blu Ray 2019
Producer: David Leitch
Duration: 2h 14 min.
Cast: Dwayne Johnson, Jason Statham, Idris Elba, Vanessa Kirby, Helen Mirren, Eiza Gonz?lez, Eddie Marsan, Eliana Sua, Cliff Curtis, Lori Pelenise Tuisano, John Tui, Joshua Mauga, Joe Anoa'i, Rob Delaney, Alex King.
IMDB: 6.6
DOWNLOAD
32 418
5
Story 3D Movie
The film is a spin-off of the famous Fast and the Furious franchise. They did not love each other from the very first glance, but by a fateful combination of circumstances they would have to work together. Luke Hobbs (Dwayne Johnson) and Deckard Shaw (Jason Statham) are the worst friends and best enemies to confront the powerful terrorist and criminal genius Brixton (Idris Elba).

Review 3D Movie
Luke Hobbs is a Los Angeles special agent who regularly goes to the gym and raises a little daughter. Deckard Shaw is a former intelligence officer living in London. They are very fond of saving the world, but they hate each other, and sometimes the first is impossible without overcoming the conflict. They have to join forces after a dangerous virus that can wipe out humanity from its face falls into the wrong hands. The "Black Superman" Brixton, who was turned into a real killing machine, really wants to use the virus, and it can only be stopped by the ever-arguing Hobbs and Shaw.
"Hobbs and the Show" is a funny buddy movie that may not go down in history, but certainly will amuse the viewer. If you want to see how two not weak guys weighed each other with stars, and during breaks they funny jokes, then you came to the address. If you need a little cardboard drama for complete satisfaction, then the new Fast and the Furious with Dominic Toretto and family values are always made up on the printing press.
Dear site users, to download a 3D movie you can use one of the file storage sites TakeFile or MoonDL. It's up to you which method to choose. Learn more about Premium. Learn more about how to download from TakeFile. Learn more about how to download from MoonDL.
Also, if you have problems with payment on one site, you can try another


ATTENTION! If your account is only showing a small amount of traffic allocation, write a message to the support team of either TakeFile or MoonDL, informing them of your 3D-HD.CLUB user Premium status and they will increase your traffic allocation up to 512 GB every 48 hours.

Link Dead or Problem File? Please let us know and we will fix it!
Subscribe to our
Telegram channel
and don't miss the release of your favorite 3d movie!
Trailer Fast and Furious Presents Hobbs and Shaw 3D Blu Ray 2019
Add comment