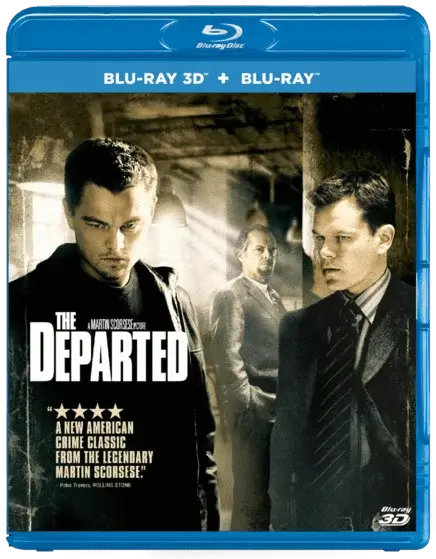 The Departed 3D Blu Ray 2006
Producer: Martin Scorsese
Duration: 2h 31 min.
Cast: Leonardo DiCaprio, Matt Damon, Jack Nicholson
Conversion 2D to 3D by:
JFC
IMDB: 8,5
DOWNLOAD
1 010
1
Story 3D Movie
The Departed 3D is set in Boston and revolves around two men, each working undercover on opposite sides of the law. Billy Costigan infiltrates the Massachusetts State Police to gather intel on the Irish mob led by Frank Costello. Simultaneously, Colin Sullivan rises through the ranks within the police force, secretly feeding information to Costello.
As both moles work to uncover each other's identities, tension escalates, and the stakes become increasingly perilous. The film delves into themes of loyalty, deception, and the blurred line between good and evil. With intense performances, intricate plot twists, and a palpable sense of suspense, The Departed 3D keeps viewers on the edge of their seats until its conclusion.
The Departed 3D Blu Ray 2006 originally was not released in 3D but has been converted to 3D specifically for the 3D-HD.CLUB, offering viewers an enhanced visual experience of the thrilling action sequences and special effects in the movie.
3D conversion by JFC

Screenshots 3D Movie
Dear site users, to download a 3D movie you can use one of the file storage sites TakeFile or MoonDL. It's up to you which method to choose. Learn more about Premium. Learn more about how to download from TakeFile. Learn more about how to download from MoonDL.
Also, if you have problems with payment on one site, you can try another


ATTENTION! If your account is only showing a small amount of traffic allocation, write a message to the support team of either TakeFile or MoonDL, informing them of your 3D-HD.CLUB user Premium status and they will increase your traffic allocation up to 512 GB every 48 hours.

Link Dead or Problem File? Please let us know and we will fix it!
Subscribe to our
Telegram channel
and don't miss the release of your favorite 3d movie!
Trailer The Departed 3D Blu Ray 2006
Add comment