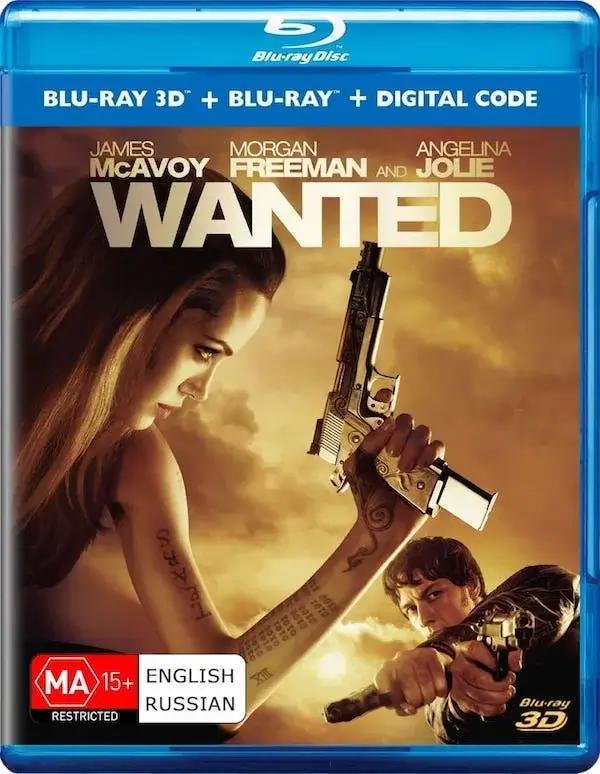 Wanted 3D Blu Ray 2008
Producer: Timur Bekmambetov
Duration: 1h 50 min.
Cast: Angelina Jolie, James McAvoy, Morgan Freeman, Terence Stamp, Thomas Kretschmann, Common, Kristen Hager
IMDB: 6.7
DOWNLOAD
792
1
Story 3D Movie
A young hopeless loser Wesley Gibson works as an office plankton, is friends with a girl who sleeps with his best friend and withdraws a miserable salary from an ATM, the amount of which it is better not to think about, but immediately fall into a deep faint. A sex bomb with a gun that appeared out of nowhere tells Wesley the truth about his dad - a brilliant killer of all time, cunningly shot from around the corner - and offers to take revenge by joining the mysterious Brotherhood of killers who carry out the death sentences of fate itself. We invite you to watch the movie "Wanted" 3d blu ray.
3D conversion by JFC
Review 3D Movie
The question of who is the most dangerous here, after the release of Timur Bekmambetov's film, will be quite confusing. Perhaps this is a man who was killed in the first frames of the picture – a jump from one skyscraper to another, done even with great passion, convinces that the deceased was capable of a lot. It is possible that this is his killer – a wonderful sniper, a pleasant conversationalist, unless he is holding you at gunpoint, whispering farewell words into the phone.
Perhaps this is the main character Wesley Gibson – the saddest deprived clerk, rotting alive in his office cubicle. A screaming witch boss, a friend who secretly fucks his girlfriend, a girlfriend herself who is not worth a condom package, antidepressants - don't be sad, crunch. The canine eyes of actor James McAvoy leave no doubt that the clerk's fate has already been overgrown with vile algae and soon this ship will sink.
As if not so – life gives a turn in the pharmacy, where the poor guy was going to quietly buy a little pharmacological calm. An affectionately smiling stranger informs him that his father did not disappear many years ago, but was killed last night on the roof of a skyscraper – and now, this second, the killer of Gibson Sr. is aiming at Gibson Jr. with a hefty pistol. The subsequent shooting and car chase convince Wesley that the matter is serious, and a visit to the lair of a smiling stranger dispels the last doubts. She is a member of the Brotherhood of Weavers, a secret society of executioners who kill those who threaten the world. The renegade has violated the contract and is now shooting the members of the Brotherhood, and only Wesley, after appropriate training, can become him. After some thought, Wesley knocks out the teeth of an insidious clerk friend with an ergonomic keyboard, goes to study for a killer and becomes really, really dangerous.
Screenshots 3D Movie
Dear site users, to download a 3D movie you can use one of the file storage sites TakeFile or MoonDL. It's up to you which method to choose. Learn more about how to download from TakeFile. Learn more about how to download from MoonDL.


Have you bought a Premium and there is not enough traffic to download? Contact the TakeFile support team (This is not our support, but the service where you bought it), they will increase your traffic up to 512 gb every 48 hours.

Link Dead? Please let us know and we will fix it!
Subscribe to our
telegram channel
and don't miss the release of your favorite 3d movie!
Trailer Wanted 3D Blu Ray 2008
Add comment