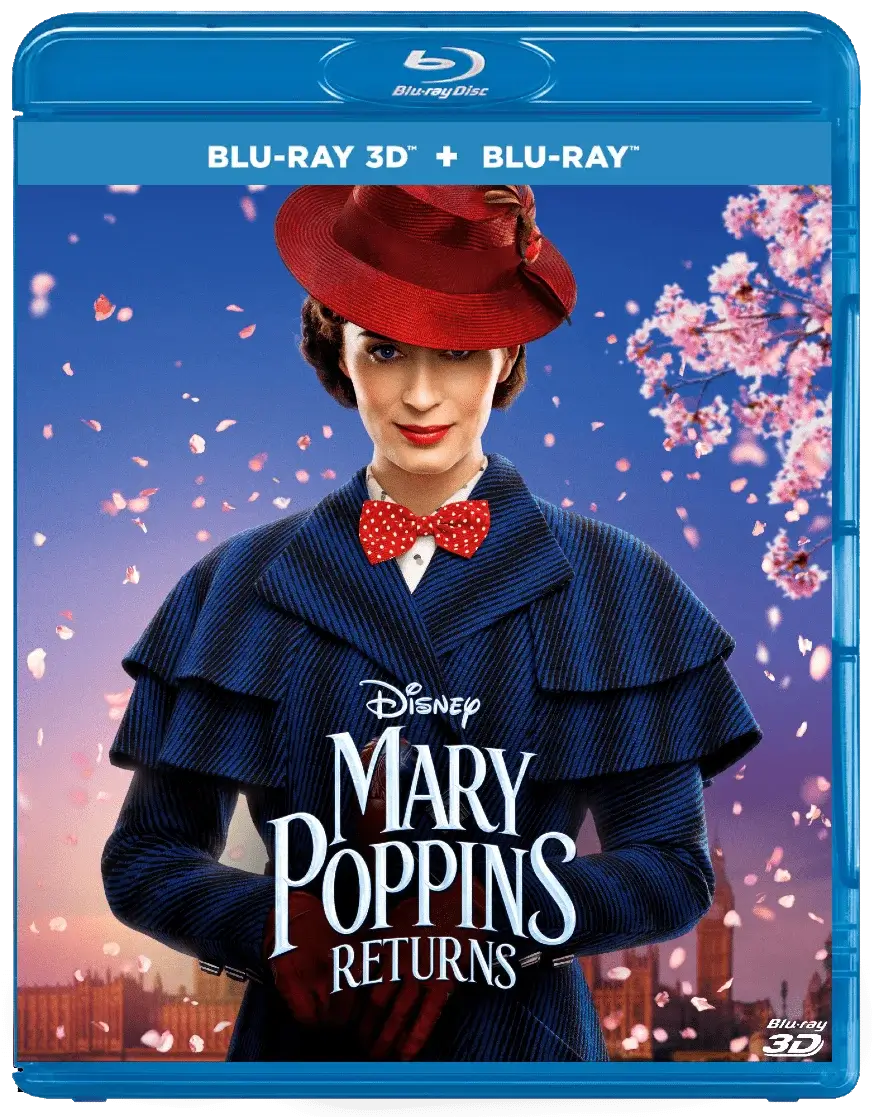 Mary Poppins Returns 3D Blu Ray 2018
Producer: Rob Marshall
Duration: 2h 11 min.
Cast: Emily Blunt, Lin-Manuel Miranda, Ben Whishaw
Conversion 2D to 3D by:
JFC
IMDB: 6,7
DOWNLOAD
1 183
5
Story 3D Movie
Mary Poppins Returns 3D is a musical fantasy film set in 1930s London, directed by Rob Marshall. The story revolves around the Banks family, particularly the now-grown Michael and his three children, Annabel, John, and Georgie. Following a family tragedy and financial struggles, Mary Poppins, the magical and whimsical nanny, reappears in their lives.
Mary, along with her friend Jack, a lamplighter, helps the family rediscover joy and imagination. Using her enchanting powers, Mary takes the children on fantastical adventures, including traveling inside a painted Royal Doulton bowl and dancing with animated penguins. Along the way, they encounter eccentric characters, including Mary's cousin Topsy, and learn valuable life lessons about resilience, hope, and the importance of family.
Amidst the whimsy, the story addresses adult themes of loss and rediscovery, capturing the spirit of the original 1964 film while introducing new, magical moments. With memorable musical numbers and heartwarming messages, Mary Poppins Returns 3D is a delightful and nostalgic sequel that captivates audiences of all ages.
Mary Poppins Returns 3D Blu Ray 2018 originally was not released in 3D but has been converted to 3D specifically for the 3D-HD.CLUB, offering viewers an enhanced visual experience of the thrilling action sequences and special effects in the movie.
3D conversion by JFC

Review 3D Movie
A few decades after her original visit, Mary Poppins, the magical nanny, returns to help the Banks siblings and Michael's children through a difficult time in their lives.
Screenshots 3D Movie
Dear site users, to download a 3D movie you can use one of the file storage sites TakeFile or MoonDL. It's up to you which method to choose. Learn more about Premium. Learn more about how to download from TakeFile. Learn more about how to download from MoonDL.
Also, if you have problems with payment on one site, you can try another


ATTENTION! If your account is only showing a small amount of traffic allocation, write a message to the support team of either TakeFile or MoonDL, informing them of your 3D-HD.CLUB user Premium status and they will increase your traffic allocation up to 512 GB every 48 hours.

Link Dead or Problem File? Please let us know and we will fix it!
Subscribe to our
Telegram channel
and don't miss the release of your favorite 3d movie!
Trailer Mary Poppins Returns 3D Blu Ray 2018
Add comment