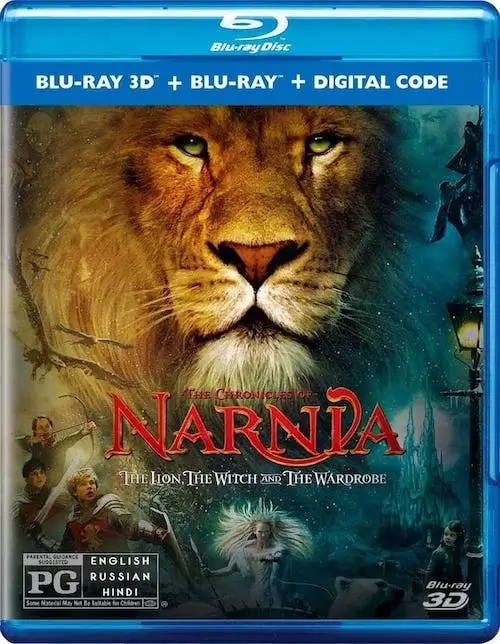 The Chronicles of Narnia: The Lion, The Witch and The Wardrobe 3D Blu Ray 2005
Producer: Andrew Adamson
Duration: 2h 23 min.
Cast: Tilda Swinton, Georgie Henley, William Moseley, Skandar Keynes, Anna Popplewell, James McAvoy, Jim Broadbent
Conversion 2D to 3D by:
JFC
IMDB: 6.9
DOWNLOAD
1 847
3
Story 3D Movie
During World War II, Peter, Susan, Edmund and Lucy are evacuated from London and brought to the house of an eccentric professor. Life there seems terribly boring to the children, until suddenly Lucy finds a closet that leads to the magical world of Narnia, where animals can talk and a kind and wise lion Aslan rules everything. At first, the other children don't believe Lucy, but then, after entering the closet, they all end up in Narnia, where, it turns out, things aren't going so great. The evil sorceress Jadis, who turns those who do not obey her into stone, has sent eternal winter to the country. To defeat the sorceress, the children join forces with Aslan and the animals devoted to him. We invite you to watch the film "The Chronicles of Narnia: The Lion, The Witch and The Wardrobe" 3d blu ray. 
The Chronicles of Narnia: The Lion, The Witch and The Wardrobe 3D Blu Ray 2005 originally was not released in 3D but has been converted to 3D specifically for the 3D-HD.CLUB, offering viewers an enhanced visual experience of the thrilling action sequences and special effects in the movie.
3D conversion by JFC

Review 3D Movie
Four teenagers, fleeing from the bombing of the World War, find themselves in a quiet rural house of a certain professor, where they find an exit to the snow-covered country of Narnia in the wardrobe. Goat-footed fauns, talking beavers, fighting centaurs live there, and everyone groans under the yoke of the White Witch. The sorceress represents the forces of Evil, she is served by vile wolves, her weapon is deception, cunning, the ability to throw temptation in time.
Dear site users, to download a 3D movie you can use one of the file storage sites TakeFile or MoonDL. It's up to you which method to choose. Learn more about Premium. Learn more about how to download from TakeFile. Learn more about how to download from MoonDL.
Also, if you have problems with payment on one site, you can try another


ATTENTION! If your account is only showing a small amount of traffic allocation, write a message to the support team of either TakeFile or MoonDL, informing them of your 3D-HD.CLUB user Premium status and they will increase your traffic allocation up to 512 GB every 48 hours.

Link Dead or Problem File? Please let us know and we will fix it!
Subscribe to our
Telegram channel
and don't miss the release of your favorite 3d movie!
Trailer The Chronicles of Narnia: The Lion, The Witch and The Wardrobe 3D Blu Ray 2005
Add comment