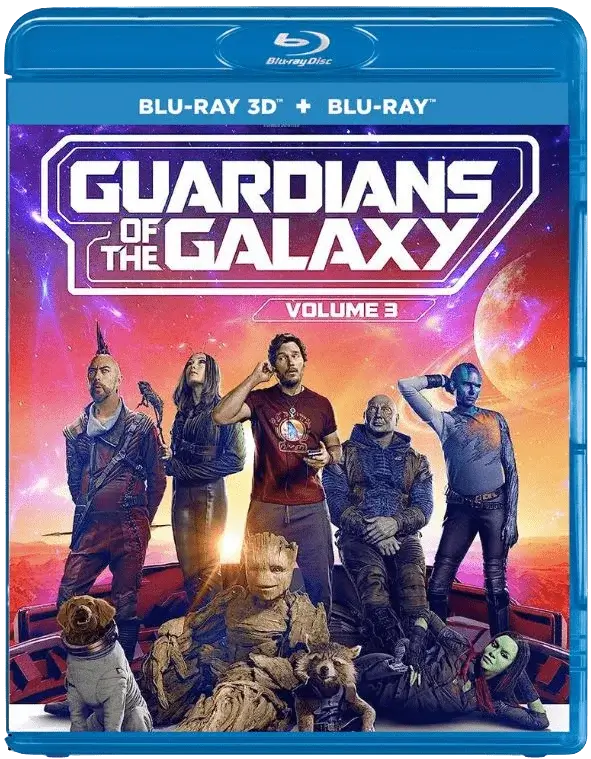 Guardians of the Galaxy Vol. 3 3D Blu Ray 2023
Producer: James Gunn
Duration: 2h 30 min.
Cast: Chris Pratt, Chukwudi Iwuji, Bradley Cooper
Subtitles:
English
,
French
,
Spanish
,
Chinese
,
German
,
Italian
,
Portuguese
,
Dutch
,
Danish
,
Finnish
,
Icelandic
,
Swedish
,
Norwegian
,
Turkish
,
Bosnian
,
Bulgarian
,
Estonian
,
Lithuanian
,
Hungarian
,
Polish
,
Serbian
,
Romanian
,
Slovak
,
Greek
,
Hebrew
,
Indonesian
,
Bengali
,
Hindi
,
Korean
,
Arabic
,
Malay
,
Russian
,
Sinhalese
,
Japanese
,
Vietnamese
IMDB: 8,0
DOWNLOAD
7 896
19
Story 3D Movie
Amidst the haunting aftermath of losing everyone he held dear, including the heart-wrenching loss of Gamora in the events of Avengers: Infinity War 3D (2018), Peter Quill finds himself shattered, seeking solace in Knowhere, the Guardians' base. But in the unforgiving flow of life and time, there is no respite. A sudden, devastating blow strikes, leaving a beloved comrade incapacitated. Despite his deep depression, Star-Lord knows he must rally his remaining strength and assemble his crew for a final, high-stakes mission that could mean life or death.
This time, however, the challenges appear insurmountable, pushing the space defenders to their limits. They often say that the third time brings luck, but with their ominous past closing in on them, can the Guardians of the Galaxy overcome the sinister plans of an unstoppable intergalactic megalomaniac? Will they find a way to save the universe once more, or is their fate sealed?
3D Movie from the Franchise - Guardians of the Galaxy

Dear site users, to download a 3D movie you can use one of the file storage sites TakeFile or MoonDL. It's up to you which method to choose. Learn more about Premium. Learn more about how to download from TakeFile. Learn more about how to download from MoonDL.
Also, if you have problems with payment on one site, you can try another


ATTENTION! If your account is only showing a small amount of traffic allocation, write a message to the support team of either TakeFile or MoonDL, informing them of your 3D-HD.CLUB user Premium status and they will increase your traffic allocation up to 512 GB every 48 hours.

Link Dead or Problem File? Please let us know and we will fix it!
Subscribe to our
Telegram channel
and don't miss the release of your favorite 3d movie!
Trailer Guardians of the Galaxy Vol. 3 3D Blu Ray 2023
Add comment