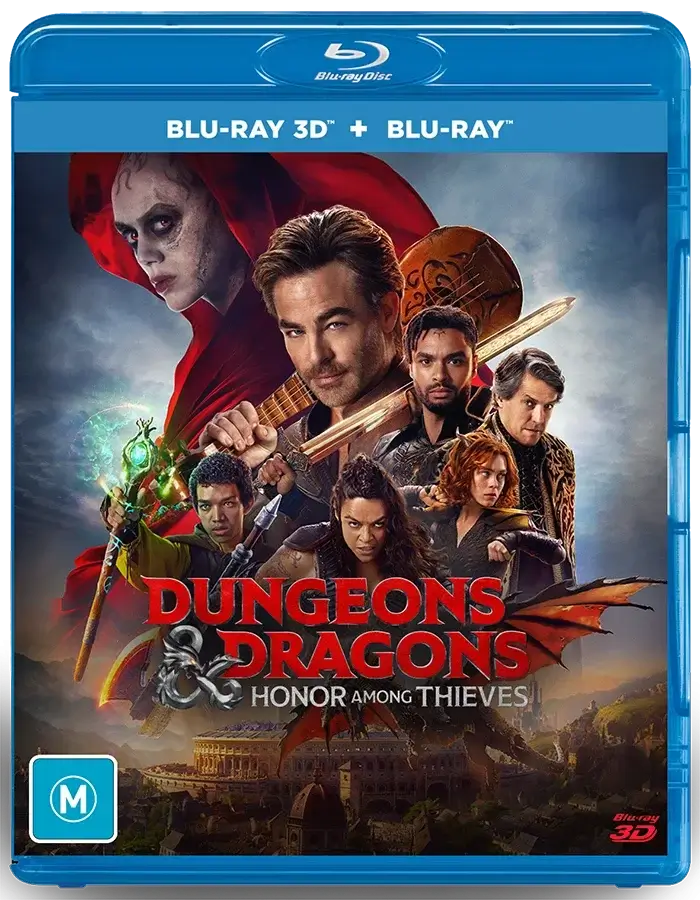 Dungeons and Dragons: Honour Among Thieves 3D Blu Ray 2023
Producer: John Francis Daley
Duration: 2h 14 min.
Cast: Chris Pine, Michelle Rodriguez, Regé-Jean Page, Justice Smith, Sophia Lillis, Hugh Grant, Chloe Coleman, Daisy Head
Conversion 2D to 3D by:
JFC
IMDB: 7.4
DOWNLOAD
4 292
10
Story 3D Movie
Once upon a time, former harpist Eugene Darvis teamed up with barbarian Holga Kilgore, unsuccessful magician Simon Omar and fraudster Farge Fitzwilliam to make money stealing together. The team was not the most balanced, but things were going great, no one was hungry, and the accomplices lived for their own pleasure. But only until they decided to steal the resurrection tablet in order to bring Darvis' dead wife back to life. The robbery didn't go according to plan. As a result, Eugene and Holga were sent to hard labor, Omar was forced to wander around the neighborhood and pickpocket, but Fitzwilliam with the tablet and all the loot became the lord of Neverwinter. Years later, Darvis and Kilgore escaped from prison, and then it was time for Fitzwilliam to repay his debts. However, he was in no hurry to pay and even sentenced his former companions to death, but they escaped and began preparing for the next, not so friendly visit to the traitor's chambers. Download and watch Dungeons and Dragons: Honour Among Thieves 3D. 
Dungeons and Dragons: Honour Among Thieves 3D Blu Ray 2023 originally was not released in 3D but has been converted to 3D specifically for the 3D-HD.CLUB, offering viewers an enhanced visual experience of the thrilling action sequences and special effects in the movie.
3D conversion by JFC

Screenshots 3D Movie
Dear site users, to download a 3D movie you can use one of the file storage sites TakeFile or MoonDL. It's up to you which method to choose. Learn more about Premium. Learn more about how to download from TakeFile. Learn more about how to download from MoonDL.
Also, if you have problems with payment on one site, you can try another


ATTENTION! If your account is only showing a small amount of traffic allocation, write a message to the support team of either TakeFile or MoonDL, informing them of your 3D-HD.CLUB user Premium status and they will increase your traffic allocation up to 512 GB every 48 hours.

Link Dead or Problem File? Please let us know and we will fix it!
Subscribe to our
Telegram channel
and don't miss the release of your favorite 3d movie!
Trailer Dungeons and Dragons: Honour Among Thieves 3D Blu Ray 2023
Add comment