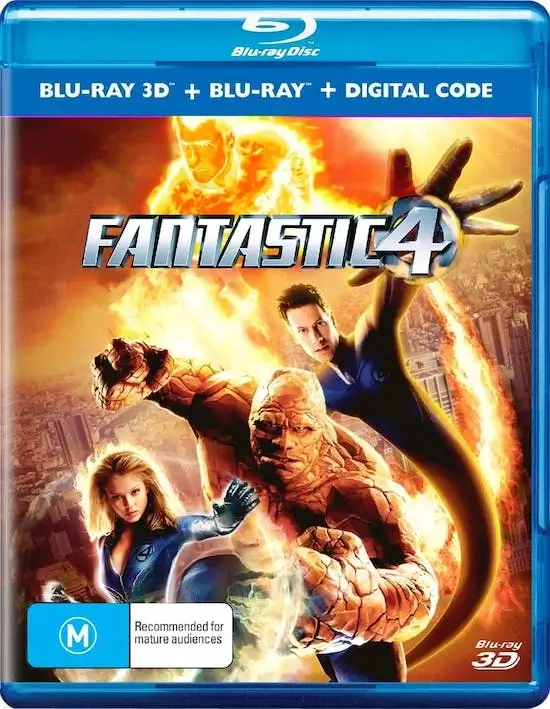 Fantastic Four 3D Blu Ray 2005
Producer: Tim Story
Duration: 1h 46 min.
Cast: Ioan Gruffudd, Michael Chiklis, Chris Evans, Jessica Alba, Julian McMahon, Hamish Linklater, Kerry Washington
IMDB: 5.7
DOWNLOAD
1 687
11
Story 3D Movie
The experimental space flight was unsuccessful, and as a result of irradiation, some changes occurred with the team. Inventor and team leader Reed Richards gets the ability to stretch his body any way he wants, and decides to call himself "Mr. Fantastic". His girlfriend Sue Storm can now become invisible and generate force fields, so from now on she is called the "Invisible Woman". Sue's younger brother Johnny Storm gets the ability to control fire, he can even embrace his whole body in flames, becoming a "Human Torch". Pilot Ben Grimm transforms into a super-strong stone man and takes the name "Something". Together they use their unique abilities to thwart the insidious plans of Dr. Doom. If you are interested in finding out what will come of it, we recommend watching "Fantastic Four " 3d blu ray.
Fantastic Four 3D Blu Ray 2005 originally was not released in 3D but has been converted to 3D specifically for the 3D-HD.CLUB, offering viewers an enhanced visual experience of the thrilling action sequences and special effects in the movie.
3D conversion by JFC

Dear site users, to download a 3D movie you can use one of the file storage sites TakeFile or MoonDL. It's up to you which method to choose. Learn more about Premium. Learn more about how to download from TakeFile. Learn more about how to download from MoonDL.
Also, if you have problems with payment on one site, you can try another


ATTENTION! If your account is only showing a small amount of traffic allocation, write a message to the support team of either TakeFile or MoonDL, informing them of your 3D-HD.CLUB user Premium status and they will increase your traffic allocation up to 512 GB every 48 hours.

Link Dead? Please let us know and we will fix it!
Subscribe to our
Telegram channel
and don't miss the release of your favorite 3d movie!
Trailer Fantastic Four 3D Blu Ray 2005
Add comment