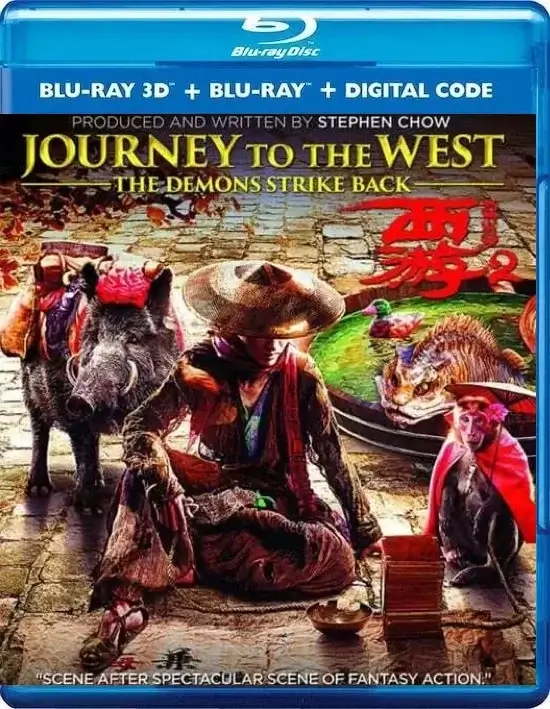 Journey to the West The Demons Strike Back 3D Blu Ray 2017
Producer: Hark Tsui
Duration: 1h 49 min.
Cast: Kris Wu, Kenny Lin, Chen Yao, Yun Lin, Yiwei Yang, Mengke Bateer
IMDB: 5.4
DOWNLOAD
1 055
3
Story 3D Movie
The journey for the scriptures continues. A movie about "Journey to the West The Demons Strike Back" 3d blu ray sometimes the monk Tang Xuanzong dreams that their goal has been achieved and he receives a reward from the Gods. But in reality, everything is much sadder: for the sake of feeding an unusual company, it is necessary to amuse the bazaar audience, and the monk also has to make sure that the Monkey King does not accidentally hit someone from the villagers. The relationship between these two is not particularly warm and is based on mutual blackmail and threats, but cunning demons do not slumber and strive to attack travelers, so it is better for a monk, a monkey King, a pig and a river dragon to stick together.

Dear site users, to download a 3D movie you can use one of the file storage sites TakeFile or MoonDL. It's up to you which method to choose. Learn more about Premium. Learn more about how to download from TakeFile. Learn more about how to download from MoonDL.
Also, if you have problems with payment on one site, you can try another


ATTENTION! If your account is only showing a small amount of traffic allocation, write a message to the support team of either TakeFile or MoonDL, informing them of your 3D-HD.CLUB user Premium status and they will increase your traffic allocation up to 512 GB every 48 hours.

Link Dead or Problem File? Please let us know and we will fix it!
Subscribe to our
Telegram channel
and don't miss the release of your favorite 3d movie!
Trailer Journey to the West The Demons Strike Back 3D Blu Ray 2017
Add comment