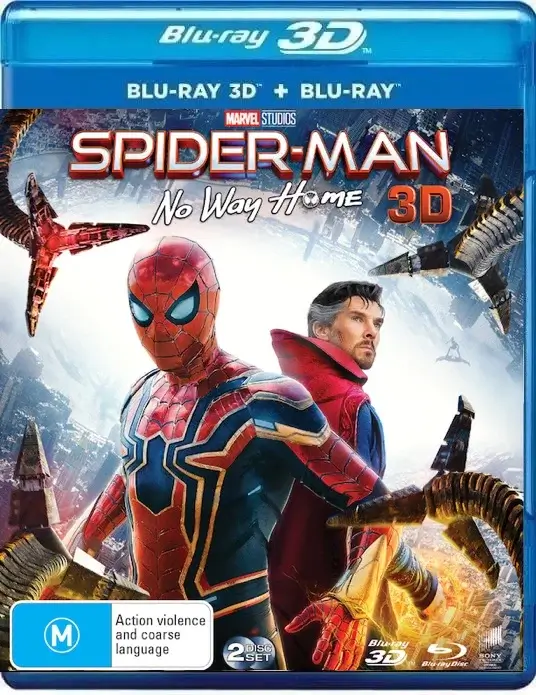 Spider-Man: No Way Home 3D Blu Ray 2021
Producer: Jon Watts
Duration: 2h 28 min.
Cast: Tom Holland, Zendaya, Benedict Cumberbatch, Jacob Batalon, Jon Favreau, Jamie Foxx
IMDB: 8.3
DOWNLOAD
15 814
0
Story 3D Movie
Peter Parker's life is turned upside down after Mysterio reveals to the world that he is Spider-Man. Then the hero turns to Doctor Strange for help, but the spell does not work as it should, and they disrupt the course of space and time, opening the multiverse in the movie Spider-Man: No Way Home 3d blu ray.
Review 3D Movie
Rarely does a movie come out that pulls audiences together as much as No Way Home is likely to. In recent years, experts have been unanimous about the death of film distribution, but the final part of the spider trilogy restores justice in the industry and returns a large audience to the halls (even if only for a couple of weekends).
The key to this phenomenon lies not only in the fanbase: superhero Jon Watts sums up not only the events of the new reboot, but also the previous two Peter Parker series, thereby making the hall breathe, laugh and cry in unison. Someone will find here malicious speculation on fan service, others - a tribute to the canon. True, of course, somewhere nearby, and you do not need to have a spider sense to get to it.
Dear site users, to download a 3D movie you can use one of the file storage sites TakeFile or MoonDL. It's up to you which method to choose. Learn more about how to download from TakeFile. Learn more about how to download from MoonDL.
Also, if you have problems with payment on one site, you can try another


Have you bought a Premium and there is not enough traffic to download? Contact the TakeFile support team (This is not our support, but the service where you bought it), they will increase your traffic up to 512 gb every 48 hours.

Link Dead? Please let us know and we will fix it!
Subscribe to our
telegram channel
and don't miss the release of your favorite 3d movie!
Trailer Spider-Man: No Way Home 3D Blu Ray 2021
Add comment