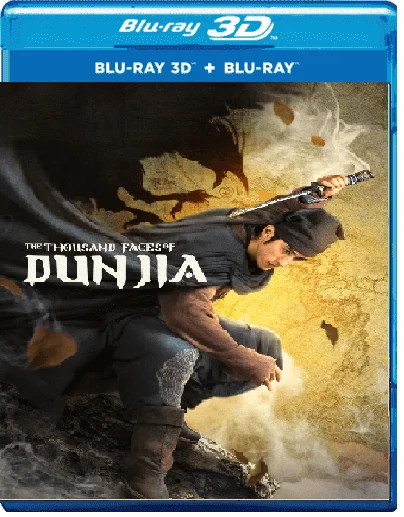 The Thousand Faces of Dunjia 3D Blu Ray 2017
Producer: Woo-Ping Yuen
Duration: 1h 53 min.
Cast: Chengpeng Dong, Ni Ni, Aarif Rahman, Dongyu Zhou, Wu Bai, Yiwei Yang
IMDB: 5.4
DOWNLOAD
2 145
1
Story 3D Movie
Well Go USA brings us a film written and produced by Tsui Hark, and directed by Yuen Woo Ping. A group of misfit fighters with supernatural abilities battles an ancient evil bent on destroying mankind. They are the only ones who can protect us. Yuen Woo (Wo) Ping is best known for being the action director/choreographer of such films as Crouching Tiger, Hidden Dragon, The Matrix trilogy, and Tarantino's Kill Bill. This Wuxia film, a genre of Chinese fiction brimming with martial arts action and spellbinding visuals, was released December 15 in the movies The Thousand Faces of Dunjia  3d blu ray.

Review 3D Movie
Yes, it's mostly a fantasy CGI green screen wire rope flying/jumping sequence after sequence film which can get really tiresome because theses movies have been done so many times, but I thought they did a quality job on all those elements including a bit of historical Chinese myth as plot backdrop. The three eyed toothy fish was hilarious. Acting was good. Entertaining as any to be found in this Chinese genre.
Dear site users, to download a 3D movie you can use one of the file storage sites TakeFile or MoonDL. It's up to you which method to choose. Learn more about Premium. Learn more about how to download from TakeFile. Learn more about how to download from MoonDL.
Also, if you have problems with payment on one site, you can try another


ATTENTION! If your account is only showing a small amount of traffic allocation, write a message to the support team of either TakeFile or MoonDL, informing them of your 3D-HD.CLUB user Premium status and they will increase your traffic allocation up to 512 GB every 48 hours.

Link Dead? Please let us know and we will fix it!
Subscribe to our
Telegram channel
and don't miss the release of your favorite 3d movie!
Trailer The Thousand Faces of Dunjia 3D Blu Ray 2017
Add comment