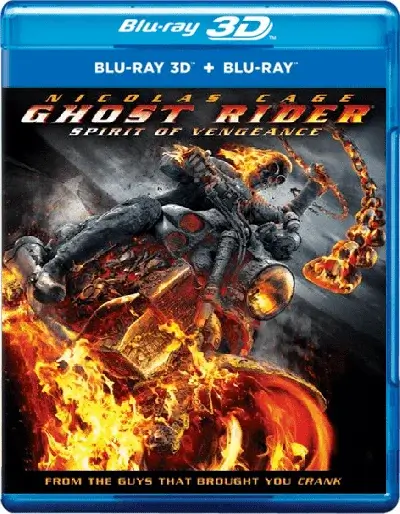 Ghost Rider Spirit of Vengeance 3D Blu Ray 2011
Producer: Mark Neveldine, Brian Taylor
Duration: 1h 36 min.
Cast: Nicolas Cage, Violante Placido, Ciarán Hinds, Idris Elba, Johnny Whitworth, Fergus Riordan, Spencer Wilding, Sorin Tofan, Jacek Koman, Anthony Head, Cristian Iacob, Christopher Lambert, Jai Stefan, Vincent Regan, Ionut Cristian Lefter
IMDB: 4.3
DOWNLOAD
1 822
0
Story 3D Movie
The action Ghost Rider Spirit of Vengeance 3d blu ray takes place on the outskirts of Eastern Europe, where the main character Johnny Blaze unsuccessfully tries to cope with his curse. He is hired by a certain sect, which tries to get the devil at the moment when he tries to possess the body of his mortal son at the boy's birthday party.

Review 3D Movie
At first glance, 'Ghost Rider: Spirit of Vengeance' seems like an unnecessary sequel, another example of Hollywood mining old ideas and slapping the 3D label on it for a higher ticket price. When viewed in right 'spirit', GR:SOV is a bit of harmless fun, a mindless superhero/action film where you can turn your brain off and relax. It's a nice antidote to the slew of overly serious superhero films. Set in Eastern Europe, the plot is an unoriginal demon-possession story (done far better in the Omen franchise), with young Danny being chosen by Roarke to carry his evil legacy. On the proviso that he's rid of his curse, Ghost Rider/Johnny Blaze agrees to help Danny's mother Nadya (the absolutely stunning Violante Placido) save her boy. 
Probably the highlight of the film is Nic Cage, who unashamedly hams it up. Sometimes it's fun to watch someone play a bad role with gusto and no shame. That's exactly what Cage does, and you know he's having a ball. More power to him. This is complemented by some cool special effects, again they're cheesy, but a film about a demoniacally possessed daredevil with a flaming body and skull doesn't have to worry too much about realism. Yes, GR:SOV is a bad film, but its good fun and a bit of escapism. If you go into it with the right attitude, you'll probably like it. Sometimes we need to stop taking films so seriously and enjoy them as they were intended.
Dear site users, to download a 3D movie you can use one of the file storage sites TakeFile or MoonDL. It's up to you which method to choose. Learn more about Premium. Learn more about how to download from TakeFile. Learn more about how to download from MoonDL.
Also, if you have problems with payment on one site, you can try another


ATTENTION! If your account is only showing a small amount of traffic allocation, write a message to the support team of either TakeFile or MoonDL, informing them of your 3D-HD.CLUB user Premium status and they will increase your traffic allocation up to 512 GB every 48 hours.

Link Dead? Please let us know and we will fix it!
Subscribe to our
Telegram channel
and don't miss the release of your favorite 3d movie!
Trailer Ghost Rider Spirit of Vengeance 3D Blu Ray 2011
Add comment