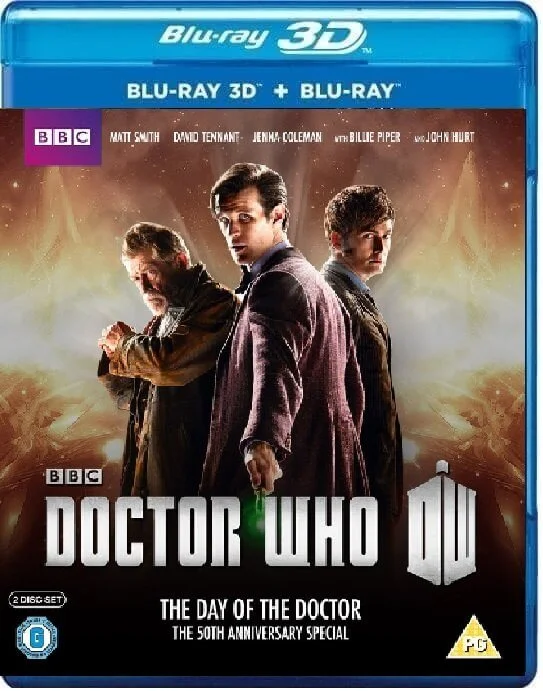 The Day of the Doctor 3D Blu Ray 2013
Producer: Nick Hurran
Duration: 1h 17 min.
Cast: Matt Smith, David Tennant, Christopher Eccleston, John Hurt, Paul McGann, Sylvester McCoy, Colin Baker, Peter Davison, Tom Baker, Jon Pertwee, Patrick Troughton, William Hartnell, Jenna Coleman, Billie Piper
IMDB: 9.4
DOWNLOAD
2 459
0
Story 3D Movie
In the movie The Day of the Doctor 3d blu ray a resourceful alien (the doctor) from the planet Gallifrey, traveling through time and space, armed with wit and a sonic screwdriver, and meeting many dangerous creatures on his way. Curious by nature, he explores the universe and often gets into trouble, to cope with which he is helped by knowledge of history and science, as well as loyal friends.

Review 3D Movie
Just finished watching the day of the doctor, and my God!!! I've waited a LONG time to feel what I am felling right now. By far, this episode was the best one yet in the Doctor Who series.
Before I saw the episode, I was both excited and worried at the same time because I did not want to be disappointed after waiting for so long to see it after watching the teaser trailer. But Setven Moffat pulled it off, and in a way you can never imagine. He takes us for a ride into the realms of Gallifrey with such detail and yet with the hint of humor.
I can swear that there were more than one instance where I had tears of joy in my eyes. This is by far the only episode/show/movie where I have given a solid 10 on 10 on IMDb till date.
If you haven't seen it yet, mark my words, "you are in for a treat".
Dear site users, to download a 3D movie you can use one of the file storage sites TakeFile or MoonDL. It's up to you which method to choose. Learn more about Premium. Learn more about how to download from TakeFile. Learn more about how to download from MoonDL.
Also, if you have problems with payment on one site, you can try another


ATTENTION! If your account is only showing a small amount of traffic allocation, write a message to the support team of either TakeFile or MoonDL, informing them of your 3D-HD.CLUB user Premium status and they will increase your traffic allocation up to 512 GB every 48 hours.

Link Dead? Please let us know and we will fix it!
Subscribe to our
Telegram channel
and don't miss the release of your favorite 3d movie!
Trailer The Day of the Doctor 3D Blu Ray 2013
Add comment