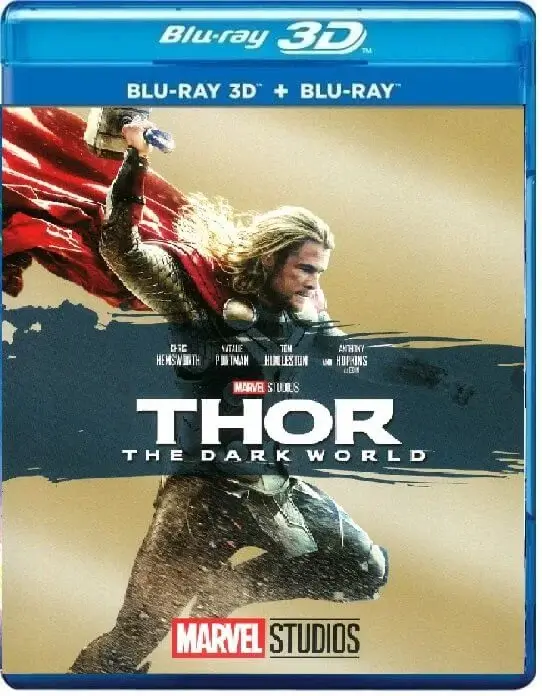 Thor: The Dark World 3D Blu Ray 2013
Producer: Alan Taylor
Duration: 1h 48 min.
Cast: Chris Hemsworth, Natalie Portman, Tom Hiddleston, Anthony Hopkins, Christopher Eccleston, Jamie Alexander, Zachary Levi, Ray Stevenson, Tadanobu Asano, Idris Elba
IMDB: 6.9
DOWNLOAD
4 382
1
Story 3D Movie
Continuing the events of the epic MARVEL blockbusters Thor and The Avengers, Thor: The Dark World 3D follows the efforts of a brave Norse god to restore order to the galaxy. Thor has to fight an ancient alien race led by the villain Malekith, eager to establish the power of darkness in the nine worlds. Faced with an enemy more powerful than Odin himself and the entire army of Asgard, Thor must find the strength to fight. A dangerous journey awaits him, at the end of which he will be able to meet again his earthly beloved Jane Foster. Will Thor risk everything to prevent darkness from reigning in the vastness of the universe?
Review 3D Movie
Once every five thousand years, the nine worlds that form our universe converge on one axis, and the spatial fabric between them becomes thinner. At the moment of the previous "convergence", the universe almost died at the hands of the leader of the Dark Elves Malekith, who wanted to send the world into Darkness with the help of the magical Ether. But then the villain was expelled, and a powerful artifact was hidden in one of the worlds. Now Malekith is back, Ether is thirsty for blood, and the accord established in all nine worlds is under threat of complete extinction. Even the mighty Thor cannot cope with the Darkness alone in order to survive the "descent", he will need any help - even from the crafty brother Loki.
Dear site users, to download a 3D movie you can use one of the file storage sites TakeFile or MoonDL. It's up to you which method to choose. Learn more about how to download from TakeFile. Learn more about how to download from MoonDL.
Also, if you have problems with payment on one site, you can try another


Have you bought a Premium and there is not enough traffic to download? Contact the TakeFile support team (This is not our support, but the service where you bought it), they will increase your traffic up to 512 gb every 48 hours.

Link Dead? Please let us know and we will fix it!
Subscribe to our
telegram channel
and don't miss the release of your favorite 3d movie!
Trailer Thor: The Dark World 3D Blu Ray 2013
Add comment