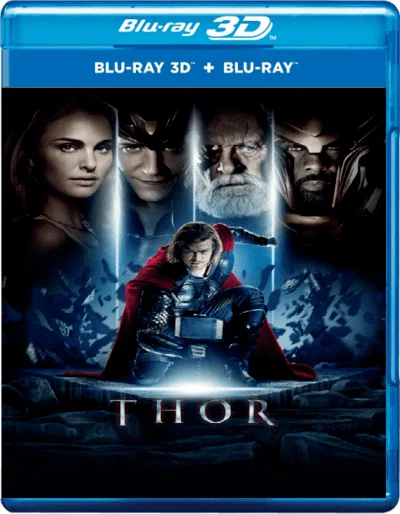 Thor 3D Blu Ray 2011
Producer: Kenneth Branagh
Duration: 1h 55 min.
Cast: Chris Hemsworth, Natalie Portman, Tom Hiddleston, Anthony Hopkins, Stellan Skarsg?rd, Kat Dennings, Clark Gregg, Colm Feore, Idris Elba, Ray Stevenson, Tadanobu Asano, Josh Dallas, Jaimie Alexander, Rene Russo, Adriana Barraza.
IMDB: 7.0
DOWNLOAD
2 349
3
Story 3D Movie
An epic adventure takes place both on our planet Earth and in the kingdom of the gods Asgard. At the center of the story is the Mighty Thor, a strong but arrogant warrior whose reckless actions revive the ancient war in Asgard. Thor is sent into exile on Earth, deprived of strength and forced to live among ordinary people as punishment in the movie Thor 3d blu ray.
Review 3D Movie
If you, like John Cleese from the classic Monty Python sketch, adore cheese (or its cinematic analogues*) and suddenly found that your favorite delicacy is nowhere to be found, then after watching Kenneth Branagh's Thor, the last of the Marvel-funded superhero films, you can expect the same disappointment. At first glance, all the cheddar needed to compete at conventions with rivals like Flash Gordon is available: huge scenery, implausible characters with stupid names and corresponding superpowers. But for the usual tasteless movie mozzarella, "Thor" is too well thought out. This is an interesting film and another proof that Marvel Studios knows perfectly well what to do with its own archives.
Dear site users, to download a 3D movie you can use one of the file storage sites TakeFile or MoonDL. It's up to you which method to choose. Learn more about how to download from TakeFile. Learn more about how to download from MoonDL.
Also, if you have problems with payment on one site, you can try another


Have you bought a Premium and there is not enough traffic to download? Contact the TakeFile support team (This is not our support, but the service where you bought it), they will increase your traffic up to 512 gb every 48 hours.

Link Dead? Please let us know and we will fix it!
Subscribe to our
telegram channel
and don't miss the release of your favorite 3d movie!
Trailer Thor 3D Blu Ray 2011
Add comment