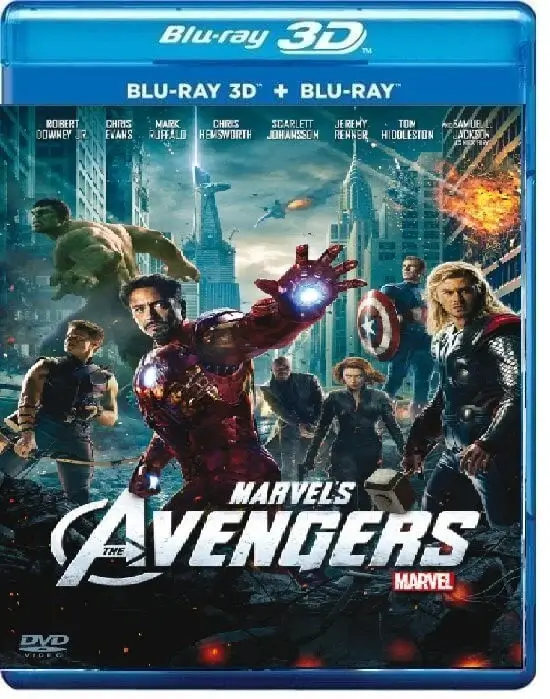 Avengers 3D Blu Ray 2012
Producer: Joss Whedon
Duration: 2h 23 min.
Cast: Robert Downey Jr. Chris Evans, Scarlett Johansson, Jeremy Renner, Mark Ruffalo, Chris Hemsworth, Tom Hiddleston, Clark Gregg, Cobie Smulders, Stellan Skarsgård, Samuel L. Jackson, Gwyneth Paltrow, Paul Bettany, Alexis Denisof
IMDB: 8.0
DOWNLOAD
2 842
1
Story 3D Movie
Loki, Thor's half-brother, is back, and this time he's not alone. The earth is on the brink of enslavement, and only the best of the best can save humanity. Head of the international organization SHIELD T. Nick Fury gathers outstanding champions of justice and goodness to repel the attack. Led by Captain America Iron Man, Thor, The Incredible Hulk, Hawkeye and Black Widow go to war with the invader in the movies Avengers  3d blu ray.
Review 3D Movie
After all the films leading to this one we were promised the Avengers on screen and this film gave us that big time. This film sees a group of big personalities having to come together and defeat a mad man and his army from enslaving humanity.
One of the most important parts of the build up to this film was Robert Downey jnr's performance as Tony stark / iron man, and he is just as awesome in this film. His character grows in all these films but he is still the narcissist that we love.
Also Chris Evans as captain America was really important as he is the leader and comes across as the moral compass of the whole film but he isn't boring which is great for the character. The rest of the performances are great as well, first of all is the recasting of Mark ruffalo as Bruce banner / hulk and he was the biggest surprise in this film.
He was great in both roles and the hulk has absolutely never been better then this film. Chris Hemsworth is back as Thor and this guy is absolutely seriously movie star and makes this character a great character full of personality.
Scarlett Johansson returns as black widow and she is sexy and tough while also proving that she is also the best female in these superhero films around. Samuel L Jackson is back as Nick fury and he is great as the character and squeezes the most he can out of this great character. The one member of the team that isn't really developed is Hawkeye, he isn't really himself for the most of the movie but even then the last battle he becomes great. What is important in a film like this is having a great villain and Tom hiddlestone as Loki definitely succeeds at that. He is just so fun to watch and you buy that he could pull off all this destruction.
Sometimes simplicity is best for a story and this is one of those times, it has happened before that a group of combustible elements have to team up but this film gets the most out of it and adds real drama to the film.
The script is the best part of the film and the dialogue between the characters is what makes this film so enjoyable to watch because it makes all the characters feel unique and there own personalities. The style of this film is great, the action is all enjoyable and the film looks great but I have to mention the show stealer that is the incredible hulk. This is the best interpretation of the hulk and he looks better then ever and he is possibly the best character in the film. Overall this is one of my favorite films ever and this is a comic book fans dream.
Dear site users, to download a 3D movie you can use one of the file storage sites TakeFile or MoonDL. It's up to you which method to choose. Learn more about how to download from TakeFile. Learn more about how to download from MoonDL.
Also, if you have problems with payment on one site, you can try another


Have you bought a Premium and there is not enough traffic to download? Contact the TakeFile support team (This is not our support, but the service where you bought it), they will increase your traffic up to 512 gb every 48 hours.

Link Dead? Please let us know and we will fix it!
Subscribe to our
telegram channel
and don't miss the release of your favorite 3d movie!
Trailer Avengers 3D Blu Ray 2012
Add comment