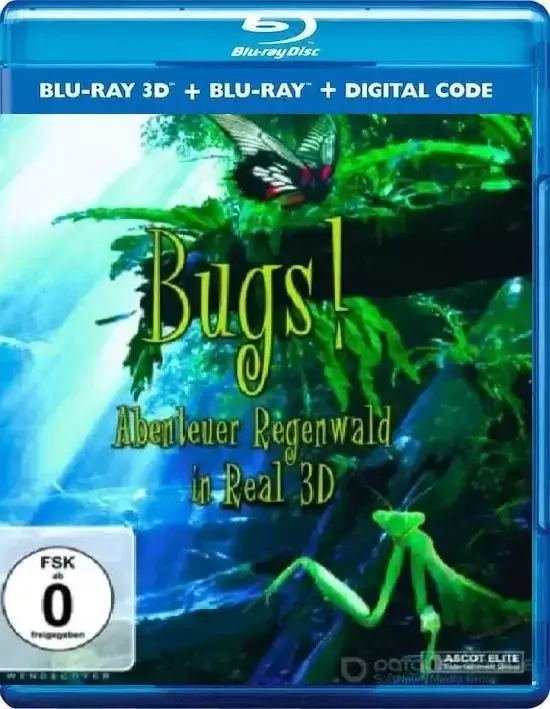 Bugs! A Rainforest Adventure 3D Blu Ray 2003
Producer: Mike Slee
Duration: 40 min.
IMDB: 7
DOWNLOAD
2 963
1
Story 3D Movie
Movie Bugs! A Rainforest Adventure 3D about the life of insects in the rainforest. The viewer follows the fate of a butterfly and a praying mantis living in the same meadow from the moment of their birth. Other insects, whose life, as it turns out, is full of adventures and difficulties, does not go unnoticed either ...

Review 3D Movie
From the first shots, a mysterious and unknown 3D world opens up to us. After all, you must admit that probably none of us sat in the grass in order to look behind these small creations of nature. All 40 minutes we see a beautiful, three-dimensional picture and hear an interesting and not boring story about a small world. You can learn a lot from this film, if you are even a bit interested in films about nature, and not just action-packed thrillers, then the film is perfect for you to enrich your horizons, and without significant brain strain. All information fits itself, without forcing to delve into each sentence. Everything is told in absolutely accessible language, without incomprehensible scientific terms.
Dear site users, to download a 3D movie you can use one of the file storage sites TakeFile or MoonDL. It's up to you which method to choose. Learn more about Premium. Learn more about how to download from TakeFile. Learn more about how to download from MoonDL.
Also, if you have problems with payment on one site, you can try another


ATTENTION! If your account is only showing a small amount of traffic allocation, write a message to the support team of either TakeFile or MoonDL, informing them of your 3D-HD.CLUB user Premium status and they will increase your traffic allocation up to 512 GB every 48 hours.

Link Dead? Please let us know and we will fix it!
Subscribe to our
Telegram channel
and don't miss the release of your favorite 3d movie!
Trailer Bugs! A Rainforest Adventure 3D Blu Ray 2003
Add comment