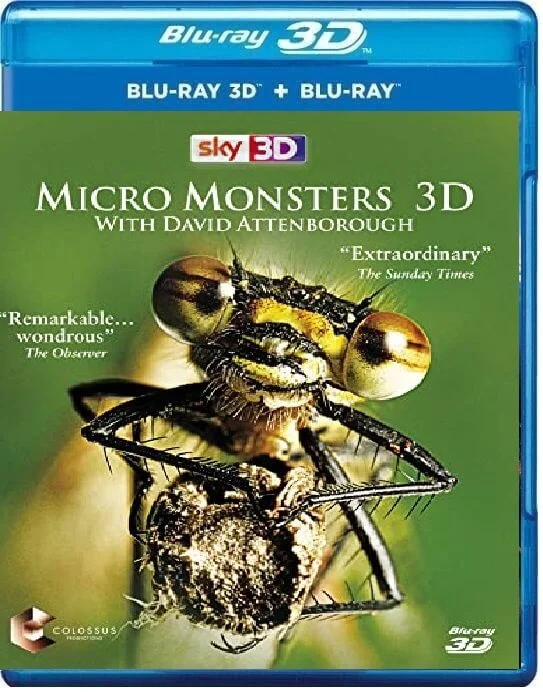 Micro Monsters 3D Blu Ray 2013
Producer: Tim Usborne, Alex Hemingway
Duration: 23 min.
IMDB: 8.4
DOWNLOAD
1 410
1
Review 3D Movie
As said many times, David Attenborough is a national treasure. He may apparently dislike the term, but it is hard to not say that about such a great presenter who has contributed significantly to some of the best programmes (of the documentary genre and overall) the BBC (though as mentioned, this and the previous 3D offerings were Sky) has ever aired/produced.
It is really hard picking favourites, let alone a definite favourite, among what Attenborough has done because he has done so many gems, it is the equivalent of trying to choose your favourite ice cream flavour or your favourite operatic role (for examples) and finding you can't pick. 'Micro Monsters 3D', along with 'Kingdom of Plants 3D', is one of his best 3D offerings, bugs (any kind) usually give me the heebie jeebies but 'Micro Monsters' helped me learn much more about them and appreciate them more. Is it among his best and most ground-breaking work? No. That doesn't stop it from being any less fascinating and exceptionally well-made. It contains everything that is so good about his work, regardless of whether it's one of his best or not, and seeing 3D this good for a TV series makes me appreciate 3D in general more.
'Micro Monsters 3D' looks amazing visually. It is gorgeously filmed, done in a completely fluid and natural, sometimes intimate (a great way of connecting more with the plants) way and never looking static. In fact much of it is remarkably cinematic. The editing is always succinct and smooth and the scenery is spectacular.
3D has had very variable execution when used. Sometimes it can enhance the experience and look great, at other times it distracts and is both overused and abused. Luckily, the 3D here in 'Micro Monsters 3D' is of the incredibly well made kind and enhances the experience, allowing one to see the bugs up close. It is a long way from soulless either, helping one to actually care for something that is non-human.
The music score fits very well, never overly grandiose while never being inappropriate while also being a beautiful score in its own right.
Even if not ground-breaking in terms of information and subject (but very much so in the use of 3D), 'Micro Monsters 3D' is incredibly educational and always maintains interest. Still found myself learning a vast amount about the different kinds of bugs and the hidden world they live in. In terms of the facts there was a very good mix of the known ones and the unknown.
Attenborough's presenting as always helps quite a bit. He clearly knows his stuff and knows what to say and how to say it. He delivers it with his usual richness, soft-spoken enthusiasm and sincerity, never talking down to the viewer and keeping them riveted and wanting to know more.
Dear site users, to download a 3D movie you can use one of the file storage sites TakeFile or MoonDL. It's up to you which method to choose. Learn more about Premium. Learn more about how to download from TakeFile. Learn more about how to download from MoonDL.
Also, if you have problems with payment on one site, you can try another


ATTENTION! If your account is only showing a small amount of traffic allocation, write a message to the support team of either TakeFile or MoonDL, informing them of your 3D-HD.CLUB user Premium status and they will increase your traffic allocation up to 512 GB every 48 hours.

Link Dead? Please let us know and we will fix it!
Subscribe to our
Telegram channel
and don't miss the release of your favorite 3d movie!
Add comment