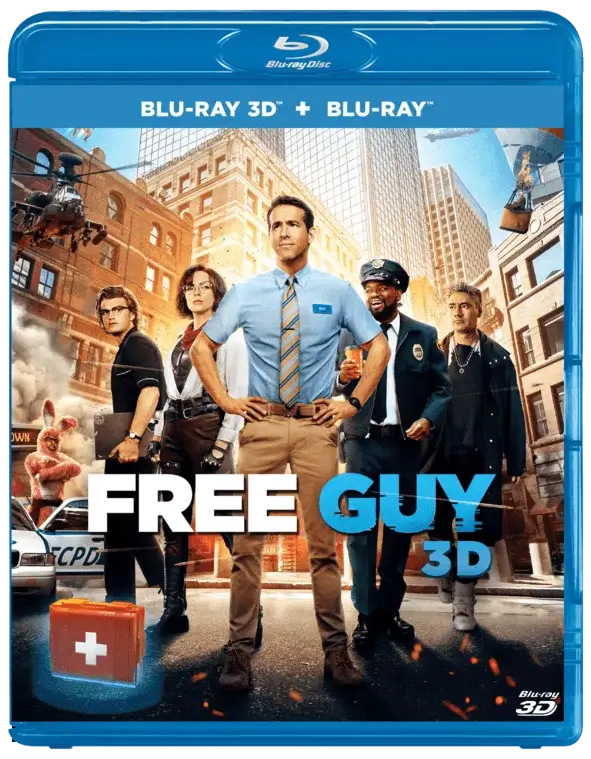 Free Guy 3D Blu Ray 2021
Producer: Shawn Levy
Duration: 1h 55 min.
Cast: Ryan Reynolds, Jodie Comer, Taika Waititi, Lil Rel Howery, Joe Keery, Utkarsh Ambudkar, Channing Tatum, Aaron W Reed
Conversion 2D to 3D by:
JFC
IMDB: 7.1
DOWNLOAD
4 102
4
Story 3D Movie
Prepare for an exhilarating and laugh-out-loud journey into the world of video games with Free Guy 3D. Directed by Shawn Levy, this action-comedy film takes audiences on a wild ride filled with heart, humor, and explosive thrills.
Free Guy introduces us to Guy, a cheerful and unsuspecting NPC in an open-world video game called Free City. Living out his mundane routine, Guy's life takes an unexpected turn when he discovers he is an artificial intelligence within a virtual world. Determined to break free from his scripted existence, he embarks on a quest to save the game from imminent deletion, battling against powerful players and corrupt developers.
Ryan Reynolds delivers his trademark wit and charm, infusing the film with a hilarious and endearing energy. The movie cleverly combines action-packed sequences, witty dialogue, and heartfelt moments, striking a perfect balance between laughs and heartstrings. Free Guy transcends its video game premise, exploring themes of self-discovery, the power of choice, and the impact of our actions. It poses thought-provoking questions about what it means to be truly alive and the transformative potential of embracing our own agency.
Free Guy 3D Blu Ray 2021 originally was not released in 3D but has been converted to 3D specifically for the 3D-HD.CLUB, offering viewers an enhanced visual experience of the thrilling action sequences and special effects in the movie.
3D conversion by JFC

Review 3D Movie
With its vibrant visuals, exhilarating action sequences, and a heartwarming narrative, "Free Guy" (2021) is a captivating and wildly entertaining adventure. It celebrates the boundless imagination of video games while delivering a message of empowerment and the importance of forging our own path in life.
Get ready to press start and join Guy on a quest like no other, where the line between reality and the virtual world blurs, and one unlikely hero dares to rewrite his own story. "Free Guy" is a joyous celebration of friendship, heroism, and the boundless possibilities of the gaming universe.
The film Joker is our top vote getter for the next 3D movie on the site with over 50% of the votes. If you'd like to vote for your favorite film in the next poll, sign up for our Telegram Channel where we'll post information about upcoming movies and just talk about 3D.
Screenshots 3D Movie
Dear site users, to download a 3D movie you can use one of the file storage sites TakeFile or MoonDL. It's up to you which method to choose. Learn more about Premium. Learn more about how to download from TakeFile. Learn more about how to download from MoonDL.
Also, if you have problems with payment on one site, you can try another


ATTENTION! If your account is only showing a small amount of traffic allocation, write a message to the support team of either TakeFile or MoonDL, informing them of your 3D-HD.CLUB user Premium status and they will increase your traffic allocation up to 512 GB every 48 hours.

Link Dead or Problem File? Please let us know and we will fix it!
Subscribe to our
Telegram channel
and don't miss the release of your favorite 3d movie!
Trailer Free Guy 3D Blu Ray 2021
Add comment