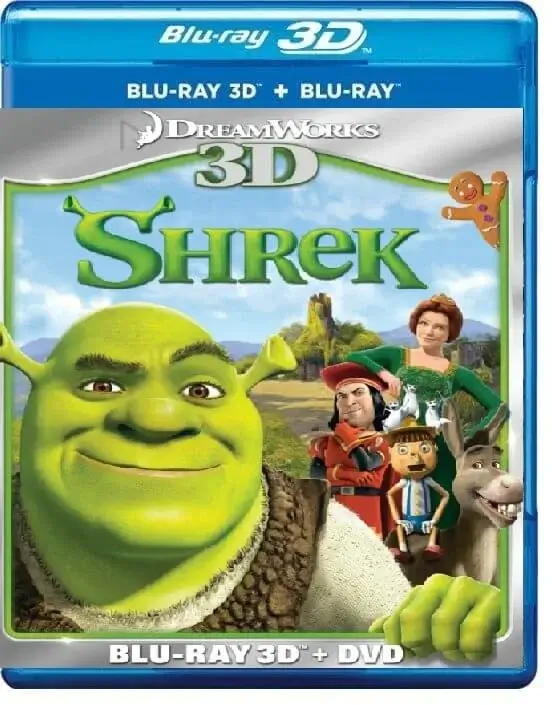 Shrek 3D Blu Ray 2001
Producer: Andrew Adamson, Vicky Jenson
Duration: 1h 30 min.
Cast: Mike Myers, Eddie Murphy, Cameron Diaz, John Lithgow, Vincent Cassel, Chris Miller, Cody Cameron, Christopher Knights, Jim Cummings, Kathleen Freeman, Conrad Vernon, Peter Dennis, Jacquie Barnbrook, Calvin Remsberg, Jean-Paul Vignon
IMDB: 7,8
DOWNLOAD
2 941
0
Story 3D Movie
In the cartoon Shrek, а huge green monster lives away from the hustle and bustle in his house in the forest, enjoying life.But, as is always the case in fairy tales, all good things end quickly.And now the nasty little Lord Farquad, the ruler of these lands, decided to evict all the fabulous creatures to hell.And, of course, Shrek's native forest was chosen as this "far away", which turned overnight into a refugee camp.

Review 3D Movie
Shrek goes to the showdown to Farquad, and he agrees to take this whole gang back, but with one condition.Shrek must first find the beautiful young princess Fiona, who, as the lord suggests, will then become his, Farquada's, wife.Unfortunately, Farquad forgets to warn Shrek that the princess's dream is guarded by a giant fire-breathing dragon.
---
Dear site users, to download a 3D movie you can use one of the file storage sites TakeFile or MoonDL. It's up to you which method to choose. Learn more about Premium. Learn more about how to download from TakeFile. Learn more about how to download from MoonDL.
Also, if you have problems with payment on one site, you can try another


ATTENTION! If your account is only showing a small amount of traffic allocation, write a message to the support team of either TakeFile or MoonDL, informing them of your 3D-HD.CLUB user Premium status and they will increase your traffic allocation up to 512 GB every 48 hours.

Link Dead? Please let us know and we will fix it!
Subscribe to our
Telegram channel
and don't miss the release of your favorite 3d movie!
Trailer Shrek 3D Blu Ray 2001
Add comment