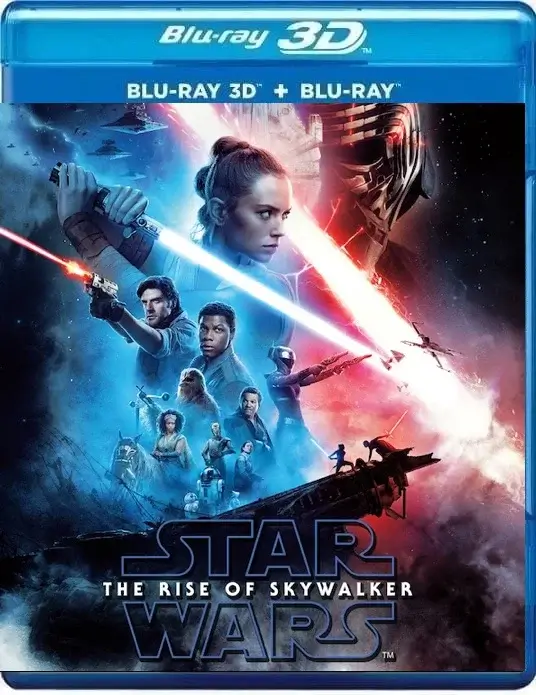 Star Wars Episode IX The Rise of Skywalker 3D Blu Ray 2019
Producer: J.J. Abrams
Duration: 2h 21 min.
Cast: Carrie Fisher, Mark Hamill, Adam Driver, Daisy Ridley, John Boyega, Oscar Isaac, Anthony Daniels, Naomi Ackie, Domhnall Gleeson, Richard E. Grant, Lupita Nyong'o, Keri Russell, Joonas Suotamo, Kelly Marie Tran, Ian McDiarmid.
IMDB: 6.8
DOWNLOAD
16 775
1
Story 3D Movie
The completion of the legendary saga Star Wars Episode IX The Rise of Skywalker, which lasted several decades. By sacrificing himself, Luke helped the resistance to escape and defeat this battle. But the main battle is still ahead, and the main characters will have to face an unexpected evil in the old guise. Ray continues to explore the Force within himself, and it is in her hands that the fate of the Galaxy will be.
Review 3D Movie
Some time has passed since the events of The Last Jedi: The resistance somehow survives, and the Emperor (Ian McDermid), unexpectedly alive, sends his message throughout the universe: he is going to raise the old imperial fleet, where each ship is able to destroy the planet. Kylo Ren (Adam Driver) sees in him a threat to his power, but, having found Palpatine, adjoins him. Now Ray (Daisy Ridley), trying to learn how to fully control her abilities, has to find the secret refuge of the Emperor, find out the secret of her origin and permanently destroy the Sith.
Dear site users, to download a 3D movie you can use one of the file storage sites TakeFile or MoonDL. It's up to you which method to choose. Learn more about how to download from TakeFile. Learn more about how to download from MoonDL.
Also, if you have problems with payment on one site, you can try another


Have you bought a Premium and there is not enough traffic to download? Contact the TakeFile support team (This is not our support, but the service where you bought it), they will increase your traffic up to 512 gb every 48 hours.

Link Dead? Please let us know and we will fix it!
Subscribe to our
telegram channel
and don't miss the release of your favorite 3d movie!
Trailer Star Wars Episode IX The Rise of Skywalker 3D Blu Ray 2019
Add comment