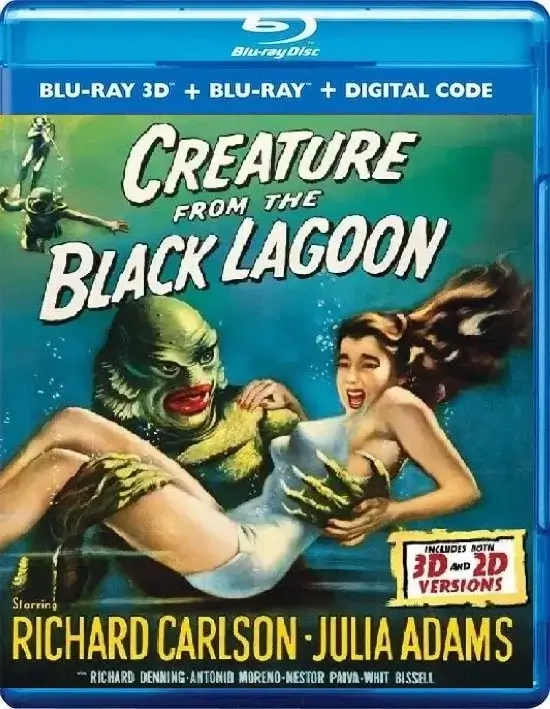 Creature from the Black Lagoon 3D Blu Ray 1954
Producer: Jack Arnold
Duration: 1h 19 min.
Cast: Richard Carlson, Julie Adams, Richard Denning, Antonio Moreno, Nestor Paiva
IMDB: 7.0
DOWNLOAD
2 155
1
Review 3D Movie
"Creature from the Black Lagoon" is a movie I saw on a Saturday afternoon TV show called "Monster Movies". I loved it from the start. I now own the DVD collection and I find all the movies entertaining. The first of the series was, of course, "Creature from the Black Lagoon". Richard Carlson, Whit Bissell, Richard Denning, Nestor Paiva and Julia Adams are awesome in their roles. A fossil is discovered of a prehistoric "gill-man" by a Dr. Maia. He enlists his scientist friend(Carlson) and the research team he works for that is headed by Denning. They travel up a river that ends into an area known as "The Black Lagoon". Looking for more fossils, they discover the "Gill-Man" is alive! The Creature is captured and then escapes but is shot and severely wounded at the end. He sinks toward the bottom of the lagoon but don't worry; he made it back for two more sequels. The team of Jack Arnold(director), William Alland(producer) and Joseph Gershenson(music director, with help from young composer Henry Mancini) help make this film unique. The photography and locales are beautiful. The acting is superb and there is enough action and suspense to keep you at the edge of you seat. This is required viewing for 1950s sci-fi/horror movie fans.
Dear site users, to download a 3D movie you can use one of the file storage sites TakeFile or MoonDL. It's up to you which method to choose. Learn more about Premium. Learn more about how to download from TakeFile. Learn more about how to download from MoonDL.
Also, if you have problems with payment on one site, you can try another


ATTENTION! If your account is only showing a small amount of traffic allocation, write a message to the support team of either TakeFile or MoonDL, informing them of your 3D-HD.CLUB user Premium status and they will increase your traffic allocation up to 512 GB every 48 hours.

Link Dead or Problem File? Please let us know and we will fix it!
Subscribe to our
Telegram channel
and don't miss the release of your favorite 3d movie!
Trailer Creature from the Black Lagoon 3D Blu Ray 1954
Add comment