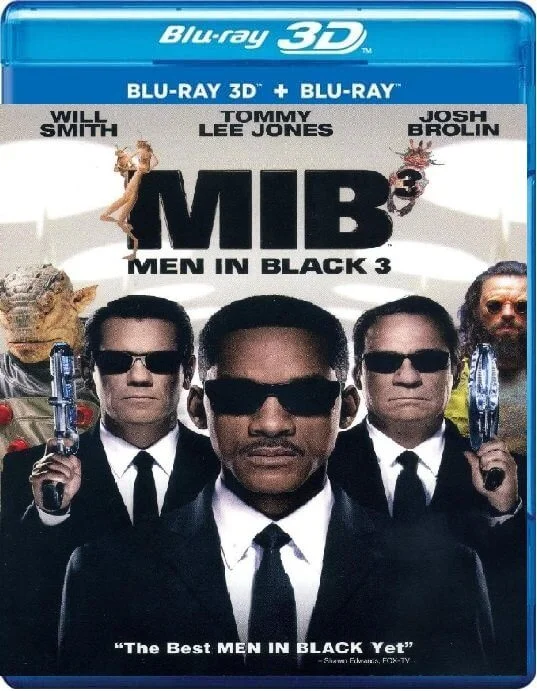 Men In Black 3 3D Blu Ray 2012
Producer: Barry Sonnenfeld
Duration: 1h 46 min.
Cast: Will Smith, Tommy Lee Jones, Josh Brolin, Jemaine Clement, Emma Thompson, Michael Stuhlbarg
IMDB: 6.8
DOWNLOAD
2 519
2
Review 3D Movie
It's been a decade since the last MIB film was released. We kind of missed the series even though Men In Black 2 wasn't really that good. In this sequel, it's pretty small and unnecessary but it still has the charms and bright imagination. Great Performances and Solid Visuals. It also has the same tone of the original Men In Black films. It's a wonderful action, adventure movie with non-stop enjoyment.
Thankfully, it does not follow the modern blockbuster roots and stay loyal to its own. By the way, this is a comical action film. It may not be a large one but what matters here is the fun characters. Will Smith and Tommy Lee Jones still got it but who shines here is Josh Brolin. He can perfectly imitate the facial expression and voice of Agent K and it's a lot better when he's around.
The plot sounds like a generic time traveling story, but there are imaginative and wonderful sequences in these. The humor is still clever. There is still a heart. The action is not quite appealing but the time jump scene was spectacular. A lot of people will be rooting for the design of the villain, Boris the Animal. At first glance, you might think it's creepy but you'll realize how awesome he actually looks.
Blockbusters like this are now obsolete. Our usual modern blockbusters are generic and bland cookie-cutters that are easy to be forgotten. This actually stays to its own kind. It's comical, it has life, it cares to the characters no matter how small and absurd the story is. Yes, it's small, but there are so many merits that are worth seeing. Either you're a fan of the series or not, you'll find it very enjoyable. The Men in Black series is still imaginative and fun.
Dear site users, to download a 3D movie you can use one of the file storage sites TakeFile or MoonDL. It's up to you which method to choose. Learn more about Premium. Learn more about how to download from TakeFile. Learn more about how to download from MoonDL.
Also, if you have problems with payment on one site, you can try another


ATTENTION! If your account is only showing a small amount of traffic allocation, write a message to the support team of either TakeFile or MoonDL, informing them of your 3D-HD.CLUB user Premium status and they will increase your traffic allocation up to 512 GB every 48 hours.

Link Dead? Please let us know and we will fix it!
Subscribe to our
Telegram channel
and don't miss the release of your favorite 3d movie!
Trailer Men In Black 3 3D Blu Ray 2012
Add comment