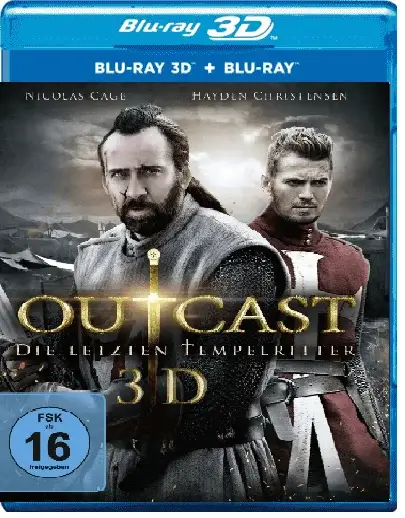 Outcast 3D Blu Ray 2014
Producer: Nick Powell
Duration: 1h 39 min.
Cast: Nicolas Cage, Hayden Christensen, Alexandre Bailly, Bozhao Wang, Kahina Carina
IMDB: 4.6
DOWNLOAD
1 367
1
Review 3D Movie
This film attracted me with the role of Nicolas Cage, however, he is not the main character and his role in the film is not quite interesting. This film is simply a Chinese movie with some new winds from western crusaders. However, it is meaningless, the makers tried to attract us with this image but they failed to connect the stories, so it becomes boring. I felt like being cheated.
The royal prince was practicing the arrows, but the result is just one hit shot, that's all. The storyline is half done.
Most important thing, the camera is terrible. If you want to watch fierce sword fights, then you will be seriously disappointed because the camera is so narrow like the you are the fighter in the movie, BUT it is shaken strongly so after a few minutes impressive, you will feel terrible.
Why don't they film it with wider view so we can enjoy the whole fighting and landscapes...? I hope they return my ticket money.
Anyways, the characters are good, I can not give them bad rating.
Finally, sorry for my bad English.
Dear site users, to download a 3D movie you can use one of the file storage sites TakeFile or MoonDL. It's up to you which method to choose. Learn more about Premium. Learn more about how to download from TakeFile. Learn more about how to download from MoonDL.
Also, if you have problems with payment on one site, you can try another


ATTENTION! If your account is only showing a small amount of traffic allocation, write a message to the support team of either TakeFile or MoonDL, informing them of your 3D-HD.CLUB user Premium status and they will increase your traffic allocation up to 512 GB every 48 hours.

Link Dead or Problem File? Please let us know and we will fix it!
Subscribe to our
Telegram channel
and don't miss the release of your favorite 3d movie!
Trailer Outcast 3D Blu Ray 2014
Add comment