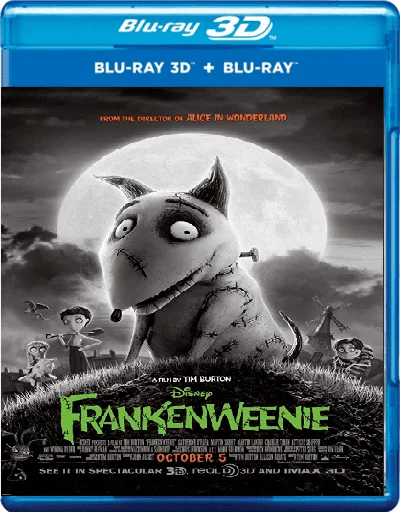 Frankenweenie 3D Blu Ray 2012
Producer: Tim Burton
Duration: 1h 27 min.
Cast: Catherine O'Hara, Martin Short, Martin Landau, Charlie Tahan, Atticus Shaffer, Winona Ryder, Robert Capron, James Hiroyuki Liao, Conchata Ferrell, Tom Kenny
IMDB: 6.9
DOWNLOAD
1 511
0
Story 3D Movie
Tim Burton presents the film "Frankenwinnie 3d blu ray" – a touching story about the friendship of a boy and a dog. The dog Sparky, adored by the boy Victor, is killed in an accident. The boy, not wanting to put up with the loss of a friend, calls on science to help and ... brings the pet back to life! It would seem that everything is not so bad, but when Sparky escapes from Victor, his friends, parents, teachers and residents of the town learn that the return to the life of a pet can lead to unexpected and even terrible consequences!
Review 3D Movie
In 1984, when Tim Burton worked for Disney made a short film called Frankenweenie, which tells the story of Victor, a boy who after losing his dog Sparky in an accident decides to bring him back to life in the purest Frankenstein style, without considering the consequences this may cause. This work helps us to understand the basics of Burton's thematic and visual style, which became his trademark over the years: dark worlds with isolated and/or solitary characters faced to the reality of the world that confronts or rejects them.
It is almost 30 years later and a streak of quite irregular films that Burton returns to his roots and decided to resume the story of Frankenweenie to make an animated feature making use of the stop- motion technique, with which he created some of his best works such as the Nightmare Before Christmas and Corpse Bride, and Frankenweenie is no exception, as it represents a return to the best films of Burton.
On this occasion the original story remains intact and makes a bigger emphasis on the impact of the resurrection of Sparky among Victor's friends and as they'll try to emulate the feat with catastrophic results for the small town they live in. Likewise, the relationship between Victor and Elsa, her neighbor and school crush is explored, through which a great reference to The Bride of Frankenstein is made, although it'snot the only one, since along the film there are winks to classic monsters movies from the 30's as the Mummy, Creature from Black Lagoon, Cabinet of Dr. Cagliari and even classic monsters like Godzilla. And the film itself is a homage to this cinema being filmed in black and white and with music in perfect tone by Danny Elfman (Burton's closest collaborator).
An innate quality of Burton is the skill to create endearing characters out of the dark and grotesque and the best example of it is Sparky, a little dog now part of the most adorable creations on the burtonian universe, and that somehow reflects many of elements or themes that have remained constant in most of Burton's filmography: childhood, loneliness, friendship and a strange fixation with death and what happens after this.
Excepting the end that seems to betray the original concept, it is safe to say that Burton needs to do more films like Frankenweenie and much less like Alice in Wonderland.
Dear site users, to download a 3D movie you can use one of the file storage sites TakeFile or MoonDL. It's up to you which method to choose. Learn more about how to download from TakeFile. Learn more about how to download from MoonDL.
Also, if you have problems with payment on one site, you can try another


Have you bought a Premium and there is not enough traffic to download? Contact the TakeFile support team (This is not our support, but the service where you bought it), they will increase your traffic up to 512 gb every 48 hours.

Link Dead? Please let us know and we will fix it!
Subscribe to our
telegram channel
and don't miss the release of your favorite 3d movie!
Trailer Frankenweenie 3D Blu Ray 2012
Add comment