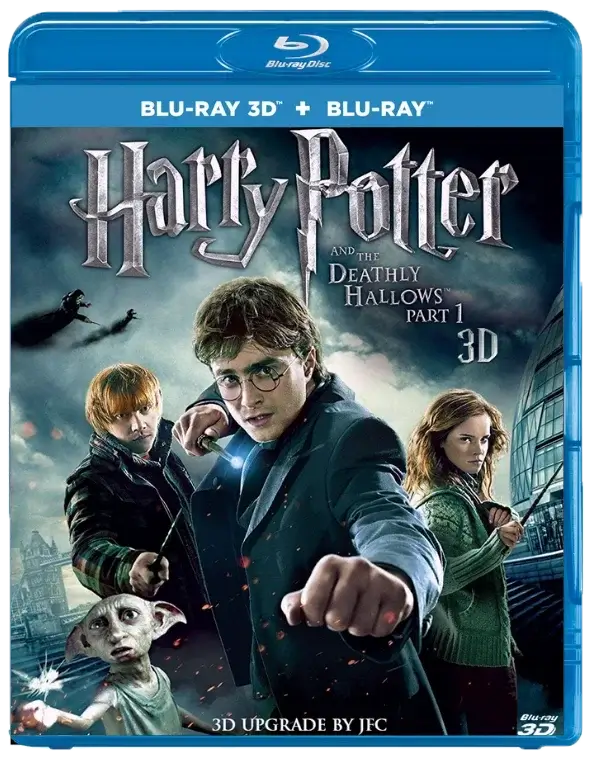 Harry Potter and the Deathly Hallows: Part 1 3D Blu Ray 2010
Producer: David Yates
Duration: 2h 26 min.
Cast: Bill Nighy, Emma Watson, Richard Griffiths, Harry Melling, Daniel Radcliffe, Julie Walters, Bonnie Wright, Rupert Grint, Ian Kelly, Michelle Fairley, Fiona Shaw, Alan Rickman, Carolyn Pickles, Ralph Fiennes, Helena Bonham
IMDB: 7.7
DOWNLOAD
5 009
2
Story 3D Movie
In Harry Potter and the Deathly Hallows: Part 1 3D, the story continues with Harry Potter, Ron Weasley, and Hermione Granger on a dangerous mission to destroy Lord Voldemort's Horcruxes, which hold pieces of his soul. With Hogwarts under the control of Death Eaters, the trio decides to leave the safety of the school and embark on a journey to find and destroy these powerful objects.
The trio faces numerous challenges and encounters along the way, testing their friendship and resilience. They find themselves hunted by Death Eaters and other dark creatures as they navigate through the wizarding world, searching for clues about the Horcruxes' locations. As they delve deeper into their quest, Harry discovers that the Deathly Hallows, three legendary objects with immense power, may aid them in their fight against Voldemort. They learn about the Elder Wand, the Resurrection Stone, and the Invisibility Cloak, and Harry realizes he possesses the Invisibility Cloak and has seen the Resurrection Stone.
Throughout their journey, Ron struggles with jealousy and doubt, causing tensions within the group. However, they eventually reconcile and continue their mission together, driven by their determination to save the wizarding world from Voldemort's tyranny. The 3D film Harry Potter and the Deathly Hallows: Part 1 3D ends with Harry, Ron, and Hermione infiltrating the Ministry of Magic to retrieve another Horcrux, but they are discovered and forced to flee, leaving them in a precarious situation as they face even greater challenges in the final installment of the series.
Harry Potter and the Deathly Hallows: Part 1 3D Blu Ray 2010 originally was not released in 3D but has been converted to 3D specifically for the 3D-HD.CLUB, offering viewers an enhanced visual experience of the thrilling action sequences and special effects in the movie.
3D conversion by JFC

Review 3D Movie
The Studio 3D Blu-ray released by Warner had basically no 3D, most people could barely tell the difference between the 2D and 3D version. It was widely regarded as one of the worst 3D conversions in Hollywood history. This release is a full upgrade, bringing out so much more 3D to the film while maintaining the JFC quality standards.
Dear site users, to download a 3D movie you can use one of the file storage sites TakeFile or MoonDL. It's up to you which method to choose. Learn more about Premium. Learn more about how to download from TakeFile. Learn more about how to download from MoonDL.
Also, if you have problems with payment on one site, you can try another


ATTENTION! If your account is only showing a small amount of traffic allocation, write a message to the support team of either TakeFile or MoonDL, informing them of your 3D-HD.CLUB user Premium status and they will increase your traffic allocation up to 512 GB every 48 hours.

Link Dead? Please let us know and we will fix it!
Subscribe to our
Telegram channel
and don't miss the release of your favorite 3d movie!
Trailer Harry Potter and the Deathly Hallows: Part 1 3D Blu Ray 2010
Add comment