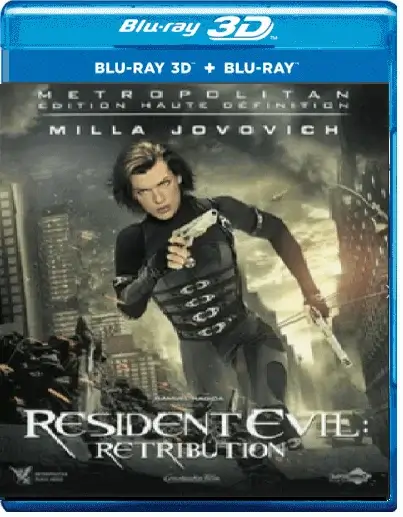 Resident Evil: Retribution 3D Blu Ray 2012
Country: Germany, Canada, USA, France, UK
Producer: Paul W. S. Anderson
Duration: 1h 35 min.
Cast: Milla Jovovich, Sienna Guillory, Johan Urb, Lee Bingbing, Ariana Engineer, Michelle Rodriguez, Boris Kodjoe, Kevin Duran, Oded Fer, Colin Salmon
IMDB: 5.4
DOWNLOAD
3 540
2
Story 3D Movie
The fifth movie Resident Evil: Retribution 3D Blu Ray of the legendary saga Resident Evil begins with the end of the story of the fourth part. Jill orders the capture team to storm the ship Arcadia, causing the ship to sink. However, Alice and the rest of the survivors manage to escape by lifting the tiltrotor into the air.

Review 3D Movie
Surprisingly, it is a fact - until the fifth part, this multi-part film adaptation of a computer game never tried to exist according to the laws of the games themselves. She pretended to be a classic hermetic thriller, then tried to compete with Mad Max in the field of a hilarious post-apocalyptic action movie. But as soon as the zombie idiocy entered into legal rights, the frightened genre gave up over and over again, and a senseless and merciless revolution began in the "Matrix", where Jovovich was Neo, and all the others were a software failure
Dear site users, to download a 3D movie you can use one of the file storage sites TakeFile or MoonDL. It's up to you which method to choose. Learn more about Premium. Learn more about how to download from TakeFile. Learn more about how to download from MoonDL.
Also, if you have problems with payment on one site, you can try another


ATTENTION! If your account is only showing a small amount of traffic allocation, write a message to the support team of either TakeFile or MoonDL, informing them of your 3D-HD.CLUB user Premium status and they will increase your traffic allocation up to 512 GB every 48 hours.

Link Dead? Please let us know and we will fix it!
Subscribe to our
Telegram channel
and don't miss the release of your favorite 3d movie!
Trailer Resident Evil: Retribution 3D Blu Ray 2012
Add comment