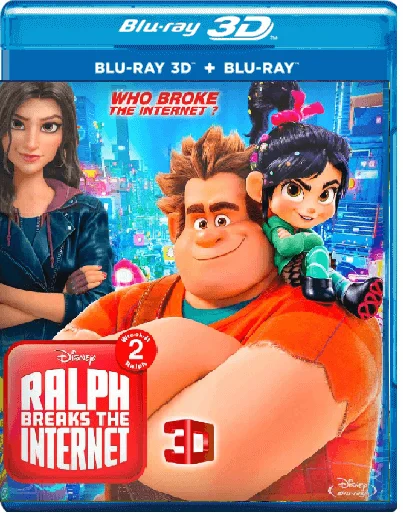 Ralph Breaks the Internet 3D Blu Ray 2018
Producer: Rich Moore, Phil Johnston
Duration: 1h 52 min.
Cast: John C. Riley, Sarah Silverman, Gal Gadot, Taraji P. Henson, Jack McBryer, Jane Lynch, Alan Tudik, Alfred Molina, Ed O'Neill, Sean Jambroun
IMDB: 7
DOWNLOAD
4 639
0
Story 3D Movie
Ralph the 3D wrecker returns to the big screens. This time, Ralph will destroy the entire Internet. The sequel will be filmed by Oscar-nominated Walt Disney Animation Studios, meeting again specifically for this. Director Rich Moore (Zootopia 3D, The Simpsons), producer Clark Spencer (Zootopia, Bolt 3D), as well as Moore's assistant and co-director Phil Johnston (screenwriter in the first part of Ralph 3D, Zootopia, Not at all a womanizer), he will also become a screenwriter for the film. Actors John C. Riley and Sarah Silverman have confirmed their work on the sequel as the voice actors for Ralph and Vanillope von Kex, respectively.

Review 3D Movie
Ralph Against the Internet 3D is a terrific sequel that revisits aspects of true friendship and a film that, for me, successfully laughs at everything that happens on the Internet.
The most interesting question that the viewer can ask before watching is: How to show the world of the Internet so that it does not look like an advertisement. But 'Ralph' did a great job with it. For two hours, the word 'advertisement' never crossed my mind, and it's wonderful. But let's move from that terrible word in the world of cinema to story.
Dear site users, to download a 3D movie you can use one of the file storage sites TakeFile or MoonDL. It's up to you which method to choose. Learn more about Premium. Learn more about how to download from TakeFile. Learn more about how to download from MoonDL.
Also, if you have problems with payment on one site, you can try another


ATTENTION! If your account is only showing a small amount of traffic allocation, write a message to the support team of either TakeFile or MoonDL, informing them of your 3D-HD.CLUB user Premium status and they will increase your traffic allocation up to 512 GB every 48 hours.

Link Dead? Please let us know and we will fix it!
Subscribe to our
Telegram channel
and don't miss the release of your favorite 3d movie!
Trailer Ralph Breaks the Internet 3D Blu Ray 2018
Add comment