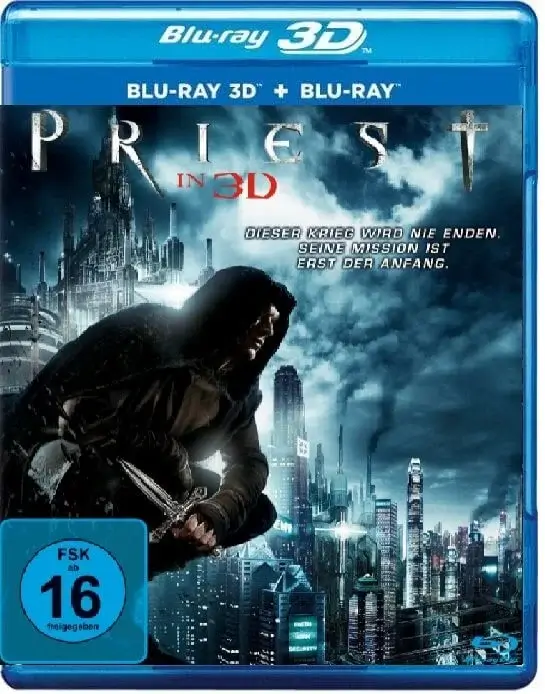 Priest 3D Blu Ray 2011
Producer: Scott Charles Stewart
Duration: 1h 27 min.
Cast: Paul Bettani, Carl Urban, Cam Jigande, Maggie Kew, Lily Collins, Brad Durif, Stephen Moyer, Christopher Plummer, Alan Dale, Madhen Amik
IMDB: 5.7
DOWNLOAD
2 342
1
Review 3D Movie
The story revolves around the confrontation between humans and vampires on the post-apocalyptic ruins of America. Throughout history, vampires ate humans with impunity until they invented biological weapons for defense. This is a biological weapon of shepherds, fast and powerful paladins in the service of the church, who very successfully hack the enemies of humanity into cabbage. As a result, vampires are supposedly exterminated. People allegedly won and settled in cities where the church that saved them ruled. Some dissenters live outside the cities and are still eaten by vampires.
Dear site users, to download a 3D movie you can use one of the file storage sites TakeFile or MoonDL. It's up to you which method to choose. Learn more about Premium. Learn more about how to download from TakeFile. Learn more about how to download from MoonDL.
Also, if you have problems with payment on one site, you can try another


ATTENTION! If your account is only showing a small amount of traffic allocation, write a message to the support team of either TakeFile or MoonDL, informing them of your 3D-HD.CLUB user Premium status and they will increase your traffic allocation up to 512 GB every 48 hours.

Link Dead? Please let us know and we will fix it!
Subscribe to our
Telegram channel
and don't miss the release of your favorite 3d movie!
Trailer Priest 3D Blu Ray 2011
Add comment