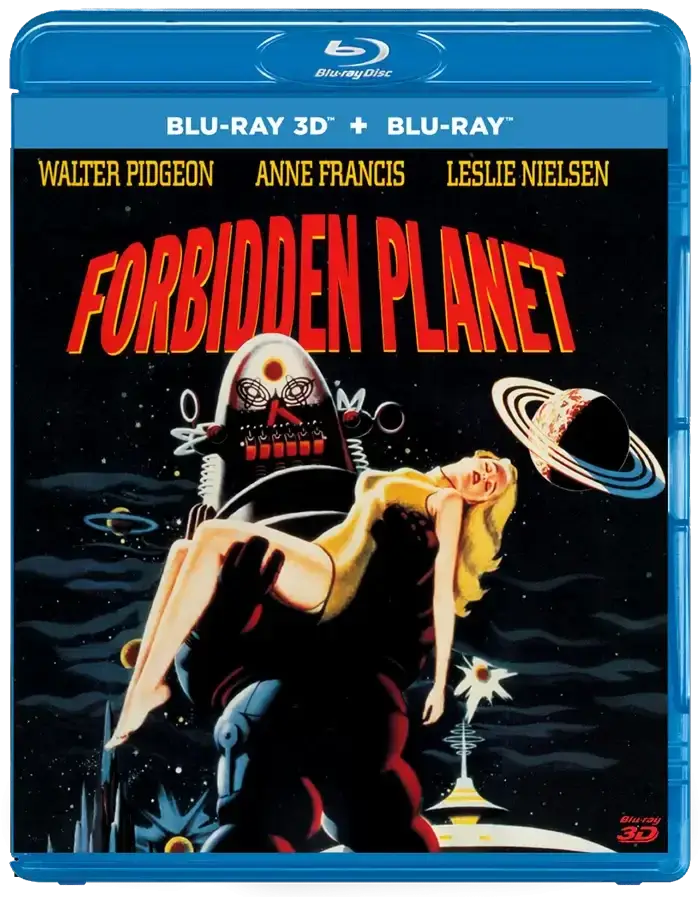 Forbidden Planet 3D Blu Ray 1956
Producer: Fred M. Wilcox
Duration: 1h 38 min.
Cast: Walter Pidgeon, Anne Francis, Leslie Nielsen
Conversion 2D to 3D by:
JFC
IMDB: 7,5
DOWNLOAD
704
1
Story 3D Movie
Forbidden Planet 3D is a groundbreaking sci-fi classic. Set in the 23rd century, a spaceship crew led by Commander Adams (Leslie Nielsen) arrives on the distant planet Altair-IV to investigate the fate of a previous mission. They find Dr. Morbius (Walter Pidgeon) and his daughter Altaira (Anne Francis) as the only survivors. Unveiling an advanced civilization's remnants, they learn about a machine that materializes thoughts. However, an invisible monster begins attacking them, revealing Morbius' dark subconscious. This pioneering 3D movie astounds with its innovative visuals and explores the power of human imagination against destructive forces.
Forbidden Planet 3D Blu Ray 1956 originally was not released in 3D but has been converted to 3D specifically for the 3D-HD.CLUB, offering viewers an enhanced visual experience of the thrilling action sequences and special effects in the movie.
3D conversion by JFC

Review 3D Movie
A starship crew travels to a distant planet's colony to investigate its silence. Once there, they discover two survivors and a dark secret.
Screenshots 3D Movie
Dear site users, to download a 3D movie you can use one of the file storage sites TakeFile or MoonDL. It's up to you which method to choose. Learn more about Premium. Learn more about how to download from TakeFile. Learn more about how to download from MoonDL.
Also, if you have problems with payment on one site, you can try another


ATTENTION! If your account is only showing a small amount of traffic allocation, write a message to the support team of either TakeFile or MoonDL, informing them of your 3D-HD.CLUB user Premium status and they will increase your traffic allocation up to 512 GB every 48 hours.

Link Dead or Problem File? Please let us know and we will fix it!
Subscribe to our
Telegram channel
and don't miss the release of your favorite 3d movie!
Trailer Forbidden Planet 3D Blu Ray 1956
Add comment