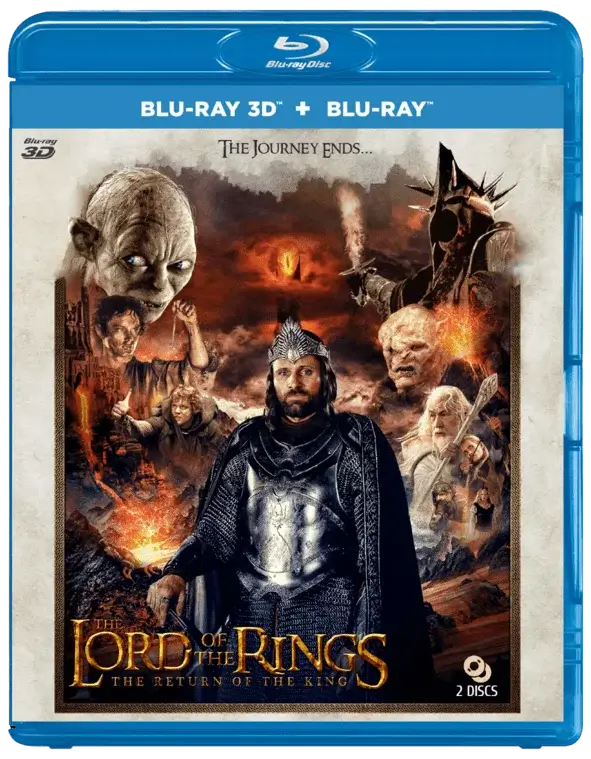 The Lord of the Rings: The Return of the King 3D Blu Ray 2003
Producer: Peter Jackson
Duration: 4h 12 min.
Cast: Elijah Wood, Viggo Mortensen, Ian McKellen
Conversion 2D to 3D by:
JFC
IMDB: 9,0
DOWNLOAD
4 261
9
Story 3D Movie
The Lord of the Rings: The Return of the King 3D is the epic conclusion to the trilogy, as the characters face their ultimate challenges in the quest to defeat the Dark Lord Sauron. Frodo and Sam continue their dangerous journey to Mount Doom, carrying the burden of the One Ring that holds the fate of Middle-earth.
As the armies of Gondor and Rohan unite to face the overwhelming forces of Sauron, Aragorn must embrace his destiny as the true King. The battle for Middle-earth reaches its peak in the climactic War of the Ring, where friendships are tested, sacrifices are made, and the destiny of all hangs in the balance.
The film explores themes of heroism, sacrifice, and the enduring power of hope as the characters confront their deepest fears and strive to overcome the darkness that threatens to engulf their world. The Return of the King is a monumental conclusion to J.R.R. Tolkien's epic fantasy trilogy.
3D Movie from the Franchise - Lord of the Rings
The Lord of the Rings: The Return of the King 3D Blu Ray 2003 originally was not released in 3D but has been converted to 3D specifically for the 3D-HD.CLUB, offering viewers an enhanced visual experience of the thrilling action sequences and special effects in the movie.
3D conversion by JFC

Screenshots 3D Movie
Dear site users, to download a 3D movie you can use one of the file storage sites TakeFile or MoonDL. It's up to you which method to choose. Learn more about Premium. Learn more about how to download from TakeFile. Learn more about how to download from MoonDL.
Also, if you have problems with payment on one site, you can try another


ATTENTION! If your account is only showing a small amount of traffic allocation, write a message to the support team of either TakeFile or MoonDL, informing them of your 3D-HD.CLUB user Premium status and they will increase your traffic allocation up to 512 GB every 48 hours.

Link Dead or Problem File? Please let us know and we will fix it!
Subscribe to our
Telegram channel
and don't miss the release of your favorite 3d movie!
Trailer The Lord of the Rings: The Return of the King 3D Blu Ray 2003
Add comment