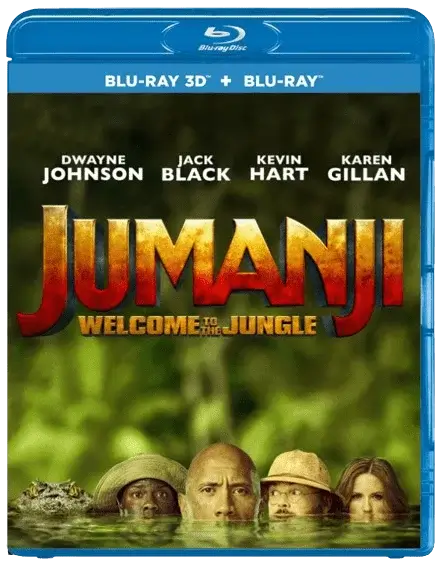 Jumanji: Welcome to the Jungle 3D Blu Ray 2017
Producer: Jake Kasdan
Duration: 1h 59 min.
Cast: Dwayne Johnson, Kevin Hart, Jack Black
IMDB: 7,0
DOWNLOAD
8 988
0
Story 3D Movie
In Jumanji: Welcome to the Jungle 3D, four high school students serving detention discover an old video game console. As they start playing, they are magically transported into the perilous world of Jumanji, where they inhabit avatars vastly different from their real selves. The group must navigate the treacherous jungle environment, overcoming various challenges and dangers, to reach the end of the game and return home.
Each character possesses unique skills and weaknesses, adding a layer of complexity to their quest. Along the way, they encounter wild animals, face hostile forces, and discover the importance of teamwork. The film combines action, humor, and adventure as the characters learn valuable lessons about friendship, courage, and self-discovery. The stakes are high, and the journey through Jumanji becomes a thrilling and entertaining ride for both the characters and the audience.
3D Movie from the Franchise - Jumanji

Dear site users, to download a 3D movie you can use one of the file storage sites TakeFile or MoonDL. It's up to you which method to choose. Learn more about Premium. Learn more about how to download from TakeFile. Learn more about how to download from MoonDL.
Also, if you have problems with payment on one site, you can try another


ATTENTION! If your account is only showing a small amount of traffic allocation, write a message to the support team of either TakeFile or MoonDL, informing them of your 3D-HD.CLUB user Premium status and they will increase your traffic allocation up to 512 GB every 48 hours.

Link Dead or Problem File? Please let us know and we will fix it!
Subscribe to our
Telegram channel
and don't miss the release of your favorite 3d movie!
Trailer Jumanji: Welcome to the Jungle 3D Blu Ray 2017
Add comment