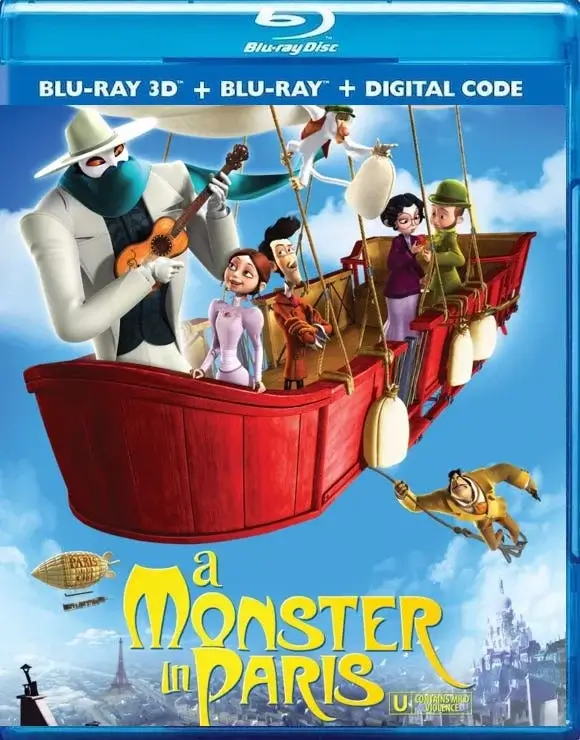 A Monster in Paris 3D Blu Ray 2011
Story 3D Movie
The full-length cartoon "A Monster in Paris" 3d blu rya , produced by Luc Besson, takes us far back in history, to the days when the famous flood happened in Paris. 1910. A terrible monster resembling a giant insect is scaring the whole of France. The shy projectionist Emil and the indefatigable inventor Raoul begin the hunt for the monster. In this chase, they get acquainted with the star of the cabaret "Birds of Paradise" Lucille, a mad scientist and his clever monkey and, finally, the monster himself, who actually turns out to be not at all scary. Now harmless as a flea, the monster is looking for protection from his new friends from the stubborn chief of the city police.
Dear site users, to download a 3D movie you can use one of the file storage sites TakeFile or MoonDL. It's up to you which method to choose. Learn more about how to download from TakeFile. Learn more about how to download from MoonDL.

Have you bought a Premium and there is not enough traffic to download? Contact the TakeFile support team (This is not our support, but the service where you bought it), they will increase your traffic up to 512 gb every 48 hours.

Link Dead? Please let us know and we will fix it!
Subscribe to our
telegram channel
and don't miss the release of your favorite 3d movie!
Trailer A Monster in Paris 3D Blu Ray 2011
Add comment