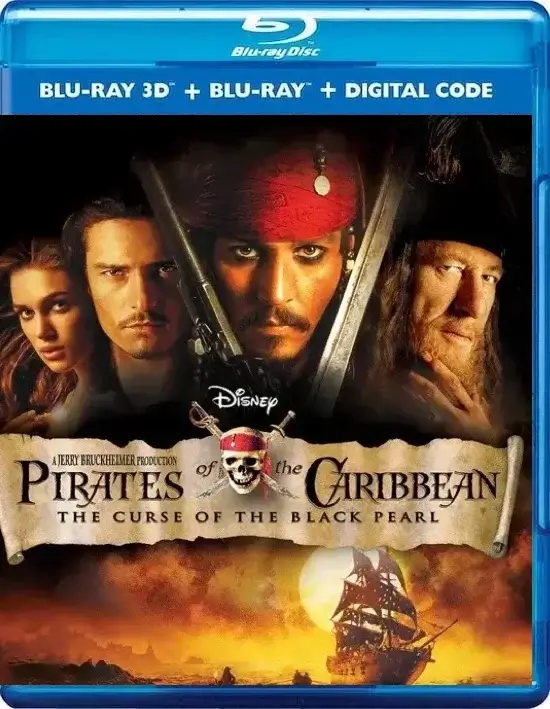 Pirates of the Caribbean: The Curse of the Black Pearl 3D Blu Ray 2003
Producer: Gore Verbinski
Duration: 2h 23 min.
Cast: Johnny Depp, Geoffrey Rush, Orlando Bloom
Conversion 2D to 3D by:
JFC
IMDB: 8,1
DOWNLOAD
2 454
29
Story 3D Movie
Pirates of the Caribbean: The Curse of the Black Pearl 3D tells the tale of a cunning pirate captain who teams up with an adventurous blacksmith to rescue the captain's captured crew and retrieve a cursed treasure. The treasure, hidden on a mysterious island, holds a dark secret: those who possess it are condemned to an immortal existence as cursed skeletons beneath the moonlight.
As the duo navigates treacherous waters and confronts undead pirates seeking revenge, they must contend with the relentless pursuit of the British Royal Navy and the captain's old pirate nemesis. The quest becomes a thrilling adventure, filled with supernatural elements, swashbuckling action, and unexpected alliances, as they strive to break the curse and thwart their enemies. The film marks the beginning of the iconic Pirates of the Caribbean franchise.
3D Movie from the Franchise - Pirates of the Caribbean
Pirates of the Caribbean: The Curse of the Black Pearl 3D Blu Ray 2003 originally was not released in 3D but has been converted to 3D specifically for the 3D-HD.CLUB, offering viewers an enhanced visual experience of the thrilling action sequences and special effects in the movie.
3D conversion by JFC

Dear site users, to download a 3D movie you can use one of the file storage sites TakeFile or MoonDL. It's up to you which method to choose. Learn more about Premium. Learn more about how to download from TakeFile. Learn more about how to download from MoonDL.
Also, if you have problems with payment on one site, you can try another


ATTENTION! If your account is only showing a small amount of traffic allocation, write a message to the support team of either TakeFile or MoonDL, informing them of your 3D-HD.CLUB user Premium status and they will increase your traffic allocation up to 512 GB every 48 hours.

Link Dead or Problem File? Please let us know and we will fix it!
Subscribe to our
Telegram channel
and don't miss the release of your favorite 3d movie!
Trailer Pirates of the Caribbean: The Curse of the Black Pearl 3D Blu Ray 2003
Add comment