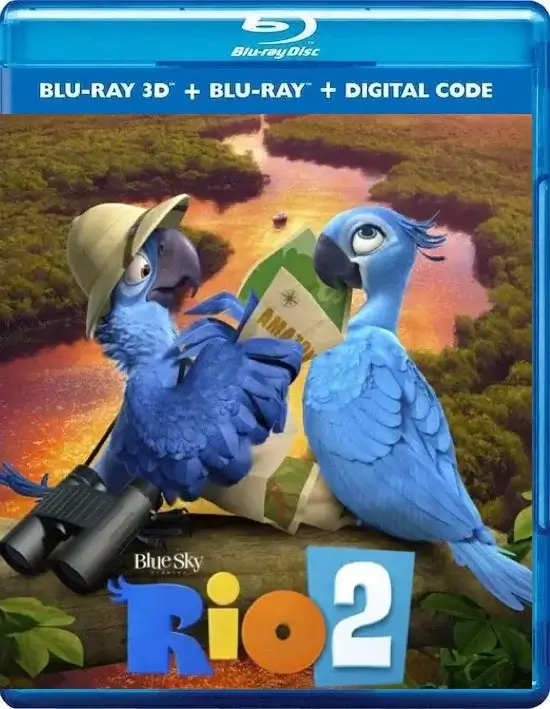 RIO 2 3D Blu Ray 2014
Producer: Carlos Saldanha
Duration: 1h 41 min.
Cast: Jesse Eisenberg, Anne Hathaway, Jemaine Clement, Andy Garcia, Jake T. Austin
IMDB: 6.3
DOWNLOAD
1 222
4
Story 3D Movie
Rio 2 3D is an animated musical comedy film released in 2014. The story picks up after the events of the first film and follows Blu, Jewel, and their three kids who embark on a journey to the Amazon rainforest. In search of their roots, they discover a hidden paradise inhabited by a variety of colorful and exotic birds.
Upon their arrival, Blu and Jewel reunite with Jewel's long-lost family. However, their idyllic life is threatened by Nigel, the villainous cockatoo from the first film, who seeks revenge. As Blu tries to fit in with the wild macaw tribe and face the challenges of the jungle, he must also protect his family and their newfound home from the nefarious plans of Nigel and his sidekicks.
The film is a vibrant celebration of family, love, and biodiversity, with a blend of catchy musical numbers and lively animation. As Blu and his family navigate the complexities of the wild, they learn valuable lessons about acceptance, environmental conservation, and the importance of preserving their unique home in the Amazon rainforest.

Dear site users, to download a 3D movie you can use one of the file storage sites TakeFile or MoonDL. It's up to you which method to choose. Learn more about Premium. Learn more about how to download from TakeFile. Learn more about how to download from MoonDL.
Also, if you have problems with payment on one site, you can try another


ATTENTION! If your account is only showing a small amount of traffic allocation, write a message to the support team of either TakeFile or MoonDL, informing them of your 3D-HD.CLUB user Premium status and they will increase your traffic allocation up to 512 GB every 48 hours.

Link Dead or Problem File? Please let us know and we will fix it!
Subscribe to our
Telegram channel
and don't miss the release of your favorite 3d movie!
Trailer RIO 2 3D Blu Ray 2014
Add comment