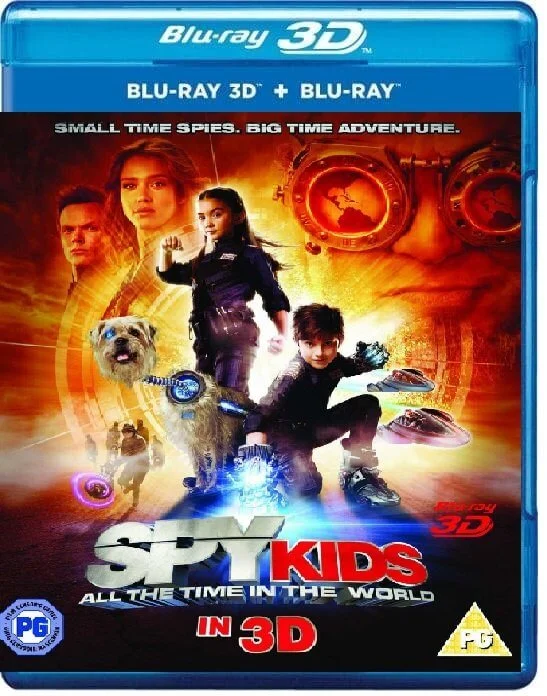 Spy Kids 4 All the Time in the World 3D Blu Ray 2011
Producer: Robert Rodriguez
Duration: 1h 29 min.
Cast: Jessica Alba, Jeremy Piven, Joel McHale, Rowan Blanchard, Mason Cook
IMDB: 3.5
DOWNLOAD
830
0
Story 3D Movie
A retired spy is called back into action, and to bond with her new step-children, she invites them along for the adventure to stop the evil Timekeeper from taking over the world in the cartoon Spy Kids 4 All the Time in the World 3d blu ray.
Review 3D Movie
OSS agent Marissa Wilson (Jessica Alba) retires after capturing time manipulating villain Tick Tock (Jeremy Piven). Her husband Wilbur (Joel McHale), step-kids Rebecca (Rowan Blanchard) and Cecil (Mason Cook) don't know her secret life. Wilbur creates a TV show hunting spies. A year after having a baby daughter, OSS director Danger D'Amo (Jeremy Piven) recalls Marissa to battle villain Time Keeper (Jeremy Piven) who is speeding up time to destroy the world. Marissa had given Rebecca a necklace with the Chronos Sapphire which is the only thing that can stop the device. When bad guys come looking for the Sapphire, Rebecca and Cecil discover Marissa's secret and their dog Argonaut (Ricky Gervais) can actually talk. Carmen Cortez (Alexa Vega) reveals that Marissa is her aunt and the Spy Kids division was deactivated after something happened with Juni Cortez (Daryl Sabara) seven years ago.
I like the idea of two new kids taking over. I even like Ricky Gervais. However, I would have prefer Robert Rodriguez do more to update the series. Also Marissa bringing the baby along isn't cool or even funny. Carmen and Juni don't need to return for this installment. It may work better to reboot the franchise without them. This reboot obviously didn't work unless Rodriguez want to continue with a lesser straight-to-video production.
Dear site users, to download a 3D movie you can use one of the file storage sites TakeFile or MoonDL. It's up to you which method to choose. Learn more about how to download from TakeFile. Learn more about how to download from MoonDL.
Also, if you have problems with payment on one site, you can try another


Have you bought a Premium and there is not enough traffic to download? Contact the TakeFile support team (This is not our support, but the service where you bought it), they will increase your traffic up to 512 gb every 48 hours.

Link Dead? Please let us know and we will fix it!
Subscribe to our
telegram channel
and don't miss the release of your favorite 3d movie!
Trailer Spy Kids 4 All the Time in the World 3D Blu Ray 2011
Add comment