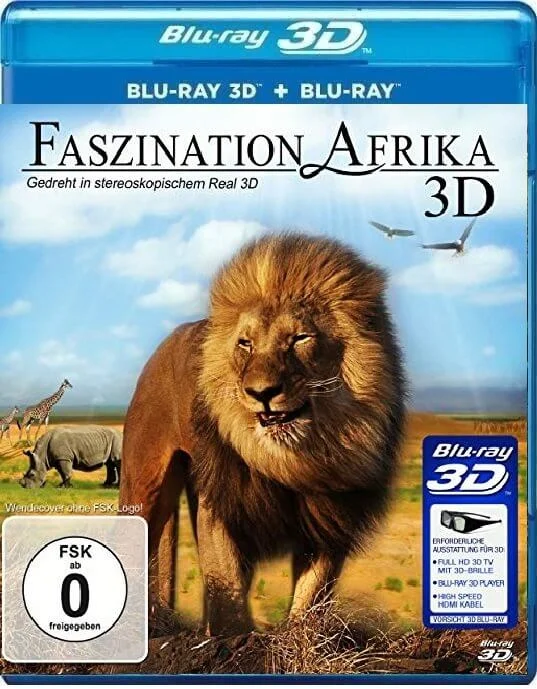 Faszination Afrika 3D Blu Ray 2011
Producer: Benjamin Eicher, Timo J. Mayer
Duration: 56 min.
IMDB: 7.0
DOWNLOAD
1 469
0
Story 3D Movie
Africa is the cradle of humanity, the heart of our Earth. The black continent, where the sun's rays penetrate the earth almost vertically. Landscapes of striking beauty, unique and diverse fauna, which perfectly adapted to the conditions of life on the continent. Plants that cannot be found anywhere else on our planet.
All this diversity of nature in its natural environment is breathtaking.
Come with us to the sun to wander through the endless savannas and watch elephants and giraffes at the watering hole. You will be simply amazed by the lions, zebras, hippos and many other animals that inhabit the continent in the documentary Faszination Afrika 3d blu ray.

Dear site users, to download a 3D movie you can use one of the file storage sites TakeFile or MoonDL. It's up to you which method to choose. Learn more about Premium. Learn more about how to download from TakeFile. Learn more about how to download from MoonDL.
Also, if you have problems with payment on one site, you can try another


ATTENTION! If your account is only showing a small amount of traffic allocation, write a message to the support team of either TakeFile or MoonDL, informing them of your 3D-HD.CLUB user Premium status and they will increase your traffic allocation up to 512 GB every 48 hours.

Link Dead or Problem File? Please let us know and we will fix it!
Subscribe to our
Telegram channel
and don't miss the release of your favorite 3d movie!
Trailer Faszination Afrika 3D Blu Ray 2011
Add comment