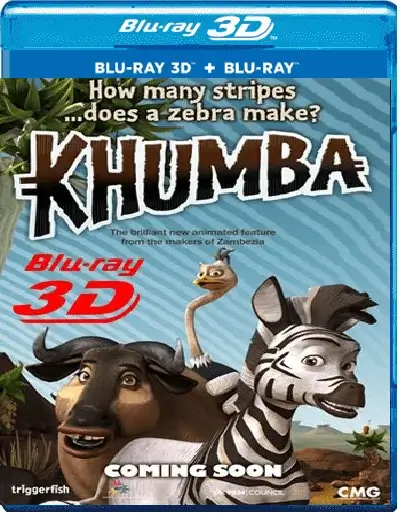 Khumba 3D Blu Ray 2013
Producer: Anthony Silverston
Duration: 1h 25 min.
Cast: Jake T. Austin, Adrian Rhodes, Sam Riegel, Bryce Papenbrook, Devon Graye, Catherine Tate
IMDB: 5.7
DOWNLOAD
825
0
Story 3D Movie
Zebra Kumba was the laughing stock of the whole herd from birth due to the fact that he was born half striped and half white. Worse, when the Great Drought began, the kinsmen decided that he was cursed, and that he was the cause of all troubles. The herd drove out Kumbu, and even his father turned his back on him! The brave half-striped zebra embarks on dangerous and fun adventures to find the missing strips and earn the respect of the family in the cartoon Khumba 3d blu ray.

Review 3D Movie
Yes, yes, another talking-wild-animal film, complete with journey of discover for the poor half- striped zebra who doesn't fit it. But I found it to be a first-class effort of its type. Oh, yes, it does slow down a bit in the middle; they could have tightened it up quite a lot. 
But some of the animated characters were quite clever, humorous, or both. And the cultural memes and stories utilized in the plot, being out of South Africa, were significantly different than the approach that say, Disney or Dreamworks might have taken.
Your kids will enjoy it. And if you appreciate animation, you'll enjoy a fresh approach to a familiar type of animated features.
Dear site users, to download a 3D movie you can use one of the file storage sites TakeFile or MoonDL. It's up to you which method to choose. Learn more about Premium. Learn more about how to download from TakeFile. Learn more about how to download from MoonDL.
Also, if you have problems with payment on one site, you can try another


ATTENTION! If your account is only showing a small amount of traffic allocation, write a message to the support team of either TakeFile or MoonDL, informing them of your 3D-HD.CLUB user Premium status and they will increase your traffic allocation up to 512 GB every 48 hours.

Link Dead? Please let us know and we will fix it!
Subscribe to our
Telegram channel
and don't miss the release of your favorite 3d movie!
Trailer Khumba 3D Blu Ray 2013
Add comment