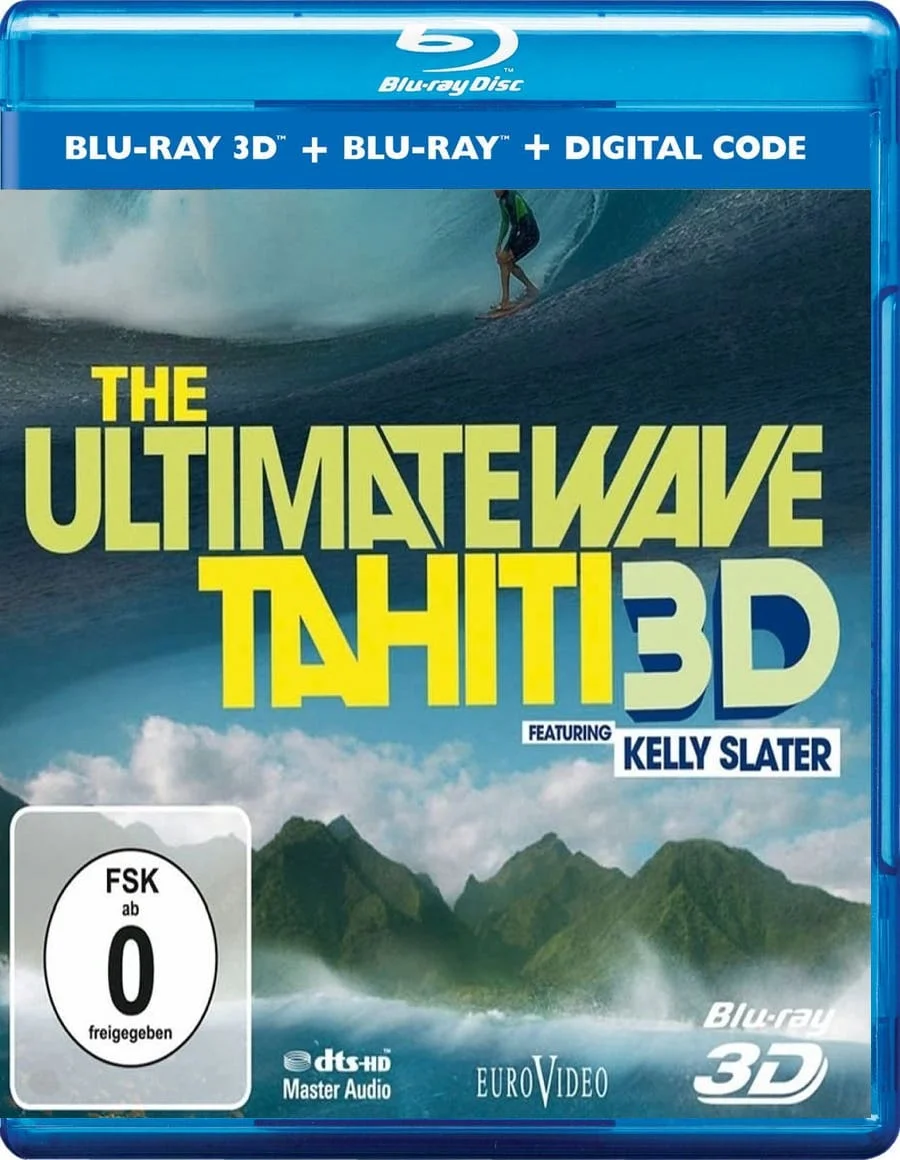 The Ultimate Wave Tahiti 3D Blu Ray 2010
Producer: Stephen Low
Duration: 45 min.
Cast: Michael Hanrahan, Kalani Miller, Kelly Slater, Raimana Van Bastolear
IMDB: 6.7
DOWNLOAD
1 671
0
Story 3D Movie
THE ULTIMATE WAVE TAHITI plunges audiences into the stunning beauty of an island paradise on a quest to find the perfect wave-riding experience. Nine-time world surfing champion Kelly Slater and Tahitian surfer Raimana Van Bastolaer and a group of friends seek out the best waves breaking on the reef at Tahiti's famed surf site Teahupo'o. As their quest unfolds, the audience is plunged beneath the surface of things, to explore the hidden forces at work shaping ocean waves and the islands that lie in their path. Amidst playful surfing action, we navigate the cosmos and an ocean storm in a search for the source and nature of a wave's energy. Exploring mountainous Tahiti, we are thrust into the turbulent volcanic past of the island and its neighbors and discover the seagoing, wave-riding roots of the islanders themselves -- a culture still rich in the music, dance and lore of the sea. Beneath the ocean, swimming with our surfers, we explore the stunning, fragile beauty of the reef habitat -- a turbulent, wave-shaping interface that envelops the island and nurtures the ocean's multitudes in motion -- fish, dolphins, sharks and whales. When the truly big surf arrives at Teahupo'o, surfing play becomes surfing survival as the riders artfully tackle some of the heaviest surf on the planet -- spectacularly captured for the giant screen for the first time in the documentary The Ultimate Wave Tahiti  3d blu ray.

Review 3D Movie
Catch the ride and forget about the rating. Unless you are completely against surfing. I myself have never surfed. My cousins have and I was only watching. But this movie (which I watched in 3-D) is bringing the waves into your face (literally) 
Beautifully shot and with nice effects, this is all about the ride. But it is difficult to rate. Actually there shouldn't be a rating for a documentary like this. But how would you know it if makes sense to watch it ... that's why I put a number on it. Even for me, as a non-surfer this was exciting to watch. And there is other eye candy than waves (male and female), so there should be enough to entertain anyone who just lets loose and just wants to get a feeling of the Ultimate Wave
Dear site users, to download a 3D movie you can use one of the file storage sites TakeFile or MoonDL. It's up to you which method to choose. Learn more about Premium. Learn more about how to download from TakeFile. Learn more about how to download from MoonDL.
Also, if you have problems with payment on one site, you can try another


ATTENTION! If your account is only showing a small amount of traffic allocation, write a message to the support team of either TakeFile or MoonDL, informing them of your 3D-HD.CLUB user Premium status and they will increase your traffic allocation up to 512 GB every 48 hours.

Link Dead or Problem File? Please let us know and we will fix it!
Subscribe to our
Telegram channel
and don't miss the release of your favorite 3d movie!
Trailer The Ultimate Wave Tahiti 3D Blu Ray 2010
Add comment