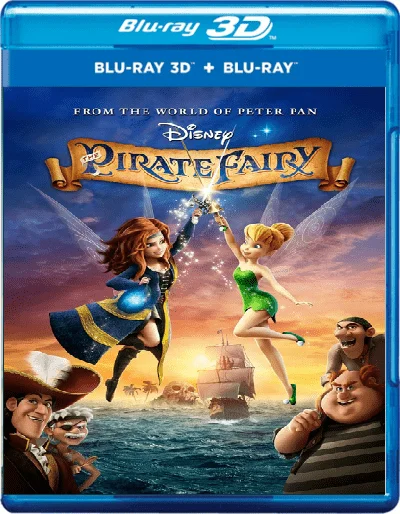 The Pirate Fairy 3D Blu Ray 2014
Producer: eggy Holmes
Duration: 1h 18 min.
Cast: Mae Whitman, Christina Hendricks, Tom Hiddleston, Lucy Liu, Raven-Symoné, Megan Hilty, Pamela Adlon, Angela Bartys, Jim Cummings, Carlos Ponce, Mick Wingert
IMDB: 6.6
DOWNLOAD
2 180
0
Story 3D Movie
When the overly inquisitive fairy Zarina becomes the cause of an emergency, she decides to escape from the Valley of the Fairies and join the fearless sea robbers. But before that, Sarina steals the magic blue pollen, on which the very existence of the Valley depends. Fairy Tinker Bell and her friends embark on an exciting journey in search of a fugitive, but in the middle of the way the fairy world turns upside down: they realize that their talents have mixed up, and now they need not only to have time to return the magic blue pollen, but also to learn to control themselves and unusual abilities for each of them in the cartoon The Pirate Fairy 3d blu ray
Review 3D Movie
Fairy Zarina is responsible for the production and distribution of magic pollen, and this is not enough for her. She wants to become an alchemist and create new, colorful pollen varieties with previously unseen magical abilities. When her next experiment almost destroys the magic tree in which pollen is produced, Zarina is deprived of her position, and the disgraced fairy flies away from the kingdom of little witches. A year later, Zarina returns at the head of a crew of human pirates to steal pollen supplies and continue her experiments. During the attack, she puts to sleep almost all the fairies gathered for the royal feast, and it is necessary to return the pollen to the few who did not fall asleep - the fairy Tinker Bell and her friends.
Dear site users, to download a 3D movie you can use one of the file storage sites TakeFile or MoonDL. It's up to you which method to choose. Learn more about how to download from TakeFile. Learn more about how to download from MoonDL.
Also, if you have problems with payment on one site, you can try another


Have you bought a Premium and there is not enough traffic to download? Contact the TakeFile support team (This is not our support, but the service where you bought it), they will increase your traffic up to 512 gb every 48 hours.

Link Dead? Please let us know and we will fix it!
Subscribe to our
telegram channel
and don't miss the release of your favorite 3d movie!
Trailer The Pirate Fairy 3D Blu Ray 2014
Add comment