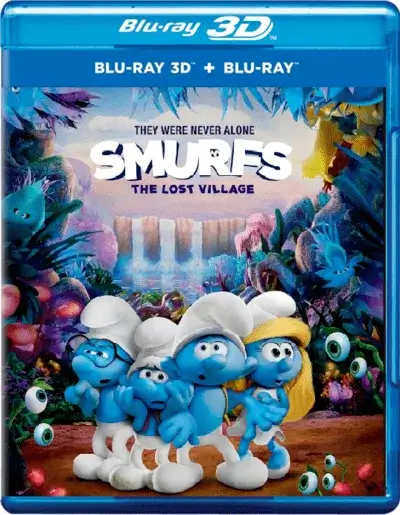 Smurfs The Lost Village 3D Blu Ray 2017
Producer: Kelly Asbury
Duration: 1h 30 min.
Cast: Demi Lovato, Rainn Wilson, Joe Manganiello, Jack McBrayer, Danny Pudi, Mandy Patinkin, Dee Bradley Baker, Frank Welker, Michelle Rodriguez, Ellie Kemper, Julia Roberts, Ariel Winter, Meghan Trainor, Bret Marnell, Brandon Jeffords
IMDB: 6.0
DOWNLOAD
1 764
3
Story 3D Movie
One day, little Smurfette thought about the fact that each of her tiny Smurf brothers has their own role and occupation in the village. What is the purpose of the only girl? The answer to this question will help her find a mysterious map that will send Smurfette and her best friends Prudent, Clumsy and Sturdy on an exciting journey through a Forbidden Forest filled with fabulous creatures to find a mysterious Lost village before the evil wizard Gargamel does. A journey full of adventure and danger will lead the Smurfs to the discovery of the biggest secret in the history of the Smurfs The Lost Village 3d blu ray.

Review 3D Movie
This movie was a masterpiece in its own element! It was how I remembered my favorite cartoon as they ran through a forest, on an adventure, with that true Smurfs charm which really made me blush like crazy! Don't get me wrong, but the Smurfs and Smurfs 2 was pretty good and they were unique; but, this movie was the right way to do a Smurfs movie! This movie is such a treat! The family will love it! I am sure of it! And seeing it in 3D was even better! So I highly recommend seeing in 3D, it's worth the extra bucks!
Dear site users, to download a 3D movie you can use one of the file storage sites TakeFile or MoonDL. It's up to you which method to choose. Learn more about Premium. Learn more about how to download from TakeFile. Learn more about how to download from MoonDL.
Also, if you have problems with payment on one site, you can try another


ATTENTION! If your account is only showing a small amount of traffic allocation, write a message to the support team of either TakeFile or MoonDL, informing them of your 3D-HD.CLUB user Premium status and they will increase your traffic allocation up to 512 GB every 48 hours.

Link Dead? Please let us know and we will fix it!
Subscribe to our
Telegram channel
and don't miss the release of your favorite 3d movie!
Trailer Smurfs The Lost Village 3D Blu Ray 2017
Add comment